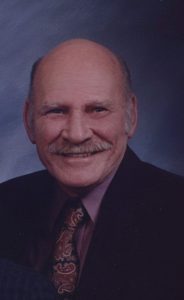 James Donald Cumby, 80, longtime resident of Santa Fe and Galveston County, Texas, passed away October 3, 2017. He was born August 5, 1937 in Norfolk, Virginia to parents Royal Taylor Cumby, Sr., and Geneva Crabtree.
He served in the U.S. Airforce until 1958. He worked as a Sr. machinist for forty years in the Petrochemical Industry. James enjoyed being on the computer, doing woodwork, gardening, and spending time with his grandchildren.
He was preceded in death by his wife of 61 years, Lucrecia Cumby, his parents, granddaughter, Kristin Crumby, and brother Royal "Bubby" Cumby.
He is survived by his daughters, Terri White and husband Steve, Janet Crumby and husband Mike, Lisa Mitchell and husband Bobby; sister, Mary Atkinson and husband Roy; brother, Ricky Crabtree and wife Carolyn; twelve grandchildren, and fourteen great-grandchildren.
A visitation will be held Sunday, October 8, 2017 from 2:00 p.m.-4:00 p.m. with a Rosary beginning at 3:30 p.m. at Crowder Funeral Home in Dickinson, Texas.
Funeral Services will be held Monday, October 9, 2017 at Our Lady of Lourdes in the Madonna Hall at 10:00 a.m. with interment following at Mt. Olivet Catholic Cemetery.