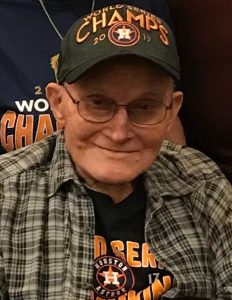 James Clayton Landreneau, 90, of Texas City, passed away peacefully at home on Sunday, May 27, 2018, in Kemah, TX.  James was born March 22, 1928, in Ville Platte, LA to Napoleon and Cecelia Landreneau.  James served in the United States Navy and retired after 35 years in Operations from Union Carbide.  He was a member of the VFW of Santa Fe post 5400, Mainland Elks Lodge 2141, Knights of Columbus, and Dow Union Carbide Pioneer Club.
James is preceded in death by his parents, sister Nettie Campbell, five brothers: Leslie Landreneau, Jessie Landreneau, George Landreneau, Elrise Landreneau and Jimmy Landreneau.
He is survived by his wife of 69 years, Cressie Landreneau; two daughters: Cheryl Spoor and husband Darrell and Denise Shaw and husband Bob; five grandchildren: Shelley Spoor, Stephanie Johnson and husband Kenny, Jared Shaw, Taylor Shaw and wife Megan, Alyssa Shaw; three great grandchildren: Joshua Spoor, Sr.,  Nevin Johnson, Emma Johnson; one great-great grandchild Joshua Spoor, Jr.
A visitation will be held at Crowder Funeral Home in La Marque on Thursday, May 31, 2018 from 5:00pm to 8:00pm with a Vigil Service at 7:00pm.  A funeral mass will be held on Friday, June 1, 2018 at 10:00am Queen of Peace Catholic Church in La Marque with Father Chacko Puthumayil officiating. Burial will follow at Forest Park East Cemetery in Webster, Texas.
A special thanks to Traditions Hospice and their staff, especially Misty James, Rachel Cole, and Barb Velasco. The family would also like to thank Sheila's Angels and staff, especially Kirsten Cook and Jasmine Bell.
In lieu of flowers donations can be made to Queen of Peace Catholic Church in La Marque.