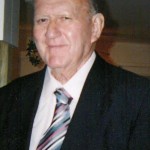 James Bernard Kluge "Tiger" was born on October 1, 1931 in Caldwell, Texas, to Louis and Ekie Kluge. He passed away, peacefully, on May 11, 2014 at the age of 82. After graduating from Caldwell High School, he enlisted into the United States Army. In 1951, he served in the Engineering Battalion during the Korean War. James was honorably discharged from the Army in 1955 and enrolled himself in the UTMB School of Radiology. He graduated as a Radiology Technician and worked at UTMB Galveston as a supervisor until he retired in 1988. James loved to hunt and fish and travel.
James is survived by, his loving wife of 58 years; Beverly Stevenson Kluge, his brother; Arthur Kluge and his wife Rosielee, his children; James Kluge and Dawn Kluge, his grandchildren; Destinee Kluge, Jamie Patterson, Danny Packard, and Ryan and Amber Valentino, and his great-grandchildren; Brook Montgomery and Ayden Patterson. He also leaves behind his nephew; Richard Jennings and his wife Jan, his sister in-law; Cherry Woodyard, and many nieces, nephews and cousin. The family would like to extend a special thanks to James' niece, Carleen Thomas and his neighbor Harding Hoppe. He is preceded in death by, his parents; Louis and Ekie Kluge, his son; Eric Kluge, his brothers; Wilbur, Alton, and Monroe, and his sisters; Sophie, Leona, and Lena Jean. James will be missed by his family, friends, and neighbors.
A visitation will be held on Wednesday, May 14, 2014 from 5:00 to 8:00pm at the James Crowder Funeral Home in La Marque. Funeral services will be held on Thursday, May 15, 2014 at 1:00pm, with Rev. Chris Norton officiating. Interment will follow at Hayes-Grace Memorial Park in Hitchcock, Texas.