Jacqueline Theresa Harris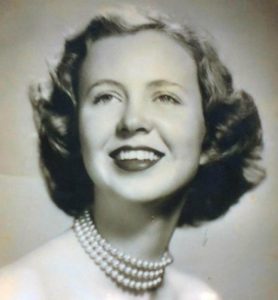 Jacqueline Theresa Harris age 86, resident of Sagemont, passed away January 17, 2017 in Houston, TX.  Ms. Harris was born on February 5, 1930 in Lytle, TX to George and Lorene Tondre. Ms. Harris is preceded in death by her parents. Brother Roger Tondre and sister Colleen Tondre. She leaves behind to cherish her memory; Sisters Sharon Collier and Corliss Gardner and her husband Tom. She is also survived by daughters: Debbie Whatley, her husband Woodrow, Rhonda Peters, her husband Rodney and Kathleen Harper and sons: Frank Harris, his wife Debra, Robert Harris, Richard Harris, Jack Harris, his wife Elizabeth, Thomas Harris, his wife Sheryl, Chris Harris, wife Stephanie and Michael Harris, wife Cheryl, 28 grandchildren and numerous great grandchildren.
With 10 children and no husband, or job Ms. Harris went back to school and earned a Bachelor Degree from the University of Houston. She then applied that degree to teaching. She worked for Pasadena ISD for over 20 years as a fifth-grade teacher and also for St. Pius V Catholic School for 12 years as a first-grade teacher. Jacqueline was an excellent teacher who worked tirelessly for her students. Her students often spoke of her as someone that made a difference in their lives. She had a passion to instill a desire to succeed in her students. She applied the same work ethic to her children and life. She worked diligently to teach her children the value of persistence and striving for self-sufficiency. She did not ask others to meet her responsibilities and taught her children those same values.
Ms. Harris was a member of St. Francis Cabrini Catholic Church for many years. She later joined Sagemont Church and remained a member until her death.
Her greatest love was reading, and she used this love to learn God's Word. She spent countless hours studying the Word of God and applying this knowledge to her life. Her love of God inspired many of her children to give their hearts to Jesus which brought her great joy.
Jacqueline remembered fondly the time she spent as a child on the family farm. She loved climbing the huge Mesquite trees and swimming in the Medina river that bordered the farm. She also loved spending time with her sisters and brother. She had many friends who loved her dearly. She will be greatly missed but now is with her closest friend, Jesus.
A visitation will be held on Monday, January 23, 2017 from 5-8 pm at Crowder Funeral Home in Pearland. Funeral service will be held at 11am on Tuesday, January 24, 2017 at Sagemont Church, 113323 Hughes Rd., followed by a burial at Forest Lawn.