Jacqueline Fay Bacon Stelly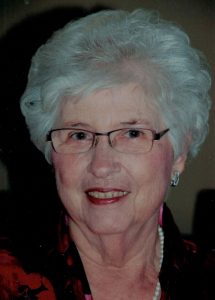 Jacqueline Fay Bacon Stelly, a devoted wife and mother went to join her parents, siblings, husband and our Heavenly Father on June 27, 2017.  Her family surrounded her and each one had the opportunity to say goodbye before a peaceful passing.
She was born on June 29, 1935 in Washington, LA.  She lived her childhood years in Opelousas, Louisiana where as a 17-year-old, she met her husband, Ed, on a blind date arranged by his first cousin.  A pile of letters, 11 dates and a year later began a marriage that lasted 62 years, until the death of her spouse.
First and foremost, she was very happy and proud to be a wife and mother.  She was fortunate to have a large group of her children and grandchildren close by and she was able to watch them mature and grow into people she loved dearly.  She was the kind of mom that was the room mother, den mother, school volunteer, clothes and costume creator and a fill in for a florist for many corsages and boutonnieres.  She often got "volunteered" by her husband and children for many roles that included an active role in her church community and her husband's best helper for his continuous stream of projects.  Many hours were spent holding a light for Ed to work. She orchestrated many family activities that included camping and time at the lake house. She also supported Ed in his quest to improve the city of League City in his roles as city councilmen and judge and showed her commitment to others through activities that included frequent visits to nursing homes and as a companion and friend to many.
She brought beauty into the world in many ways.  Her love for nature, especially flowers and birds, gave her many hours of joy.  She had a knack for growing plants and seemed to be able to just break off a piece, put it in the ground and soon enjoy a hardy plant she would likely give away.  She was a long-time member of the Dig and Design Garden Club. Thursday garden club days were always prioritized.  She missed the last year or two at garden club, but she was able to go to their last meeting this year.
She was also a great cook, in the Cajun style, before most people in Texas even knew of crawfish or gumbo.  Her children learned the value of combining good food with family. Meals were a time to gather her family for countless occasions full of love and laughter and a cacophony of conversation.
Her grandchildren knew her as Grammie and were confident she thought they were the most special kids on the planet.  She cared for them when they were ill, spoiled them with all their favorite food in her pantry, stanchly supported them, and rarely limited what she would do for them.  She has left a legacy of love.
She is survived by her children Aubrey Stelly and wife Bethany, Craig Stelly, Charlotte Stelly-Seitz and husband William Seitz, Mark Stelly and wife Pam and grandchildren Samantha Stelly Schlickeisen, Taylor Seitz, Carly Seitz, Elizabeth Stelly, and Emily Stelly.
Visitation will be at St. Mary Catholic Church, 1612 East Walker, League City, TX, 77573 on Sunday from 4-6 PM with a rosary at 6 PM.  A funeral mass will be celebrated at 10 AM on Monday, July 3rd at St. Mary Catholic Church.  Burial will follow at Forest Park East with arrangements by Crowder Funeral Home. If preferred, donations can be made to Dig and Design Garden Club, c/o Pam Stelly, 2219 Coryell St., League City, TX 77573 or St. Mary Catholic Church.