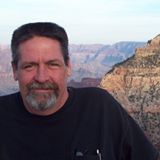 J Timothy White, passed away on Tuesday November 7th, Alvin TX, at the age of 58.
He was born on March 24 1959, born in, Buffalo NY, to late John F. White and late Patricia Stack White.
He is survived by Spouse: Michiala Nebrich Children: Timothy White Bacliff TX and spouse: Jennifer White. Patrick White Alvin TX. Grandchildren Jaxon and Maggilyn White. Brother Sean White and spouse Linda White San Tan valley AZ. Nieces and Nephew: John White spouse Felina White, Cory White, Rebecca White. Great niece- nephews: Hunter, Cooper, Maddison White
The Family will receive friends on Monday, November 13, 2047 at 12:00pm with a Ceremony at 2 o'clock at Crowder Funeral Home, 1645 East Main, League City, Texas 77573 with Deacon George Blanford officiating.
In Lieu of flowers, you may send memorials to Donate Life America at https://www.donatelife.net/contribute/