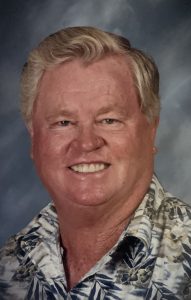 Irvin Wallace Cole, Jr. (Pinky), 86, of Alvin and Canyon Lake, Texas, passed away December 22, 2022, at his home surrounded by his loved ones.  Irvin was born July 4, 1936 in Houston, Texas to Evelyn and Irvin Cole, Sr.  Soon after the family moved to Santa Fe, Texas.  Attended school in Santa Fe where in high school he excelled in track and football.  Upon graduating in 1955, he went to work for Monsanto Chemical and in 1956 he joined the U.S. Marine Corps serving his country and after his return, married the love of his life, Joyce Ruhmann.  He was hired and worked as maintenance supervisor for Monsanto/Sterling for 40 years. Upon retirement, Irvin and Joyce moved from Alvin to Canyon Lake, Texas, where they settled down playing many days of golf, and enjoying new friends.  Irvin and Joyce owned a hunting ranch outside of Leakey, Texas where he spent many days hunting, cooking, and enjoying the beautiful scenery. They were members of Alvin Lutheran Church and St. Andrews Lutheran Church in Canyon Lake for many years.  He will be remembered as a loving devoted husband, father, grandfather, and great-grandfather.
Irvin was preceded in death by his parents and a daughter Laurie Sue Cole.  He leaves behind to cherish his memory his beloved wife of 63 years Joyce Cole; sons Duane Cole and wife Rhonda, and Glenn Cole; brothers Donald Wayne Cole, and Kenneth Ray Cole and wife Glo Ann Cole; grandchildren Taylor Cole, Madison Chollett and husband Zac, Keaton Cole and wife Lindsay, and Carter Cole; great-grandchildren Ty Cole, Hayes Cole, Jack Cole, Ella Cole, Alsey Chollett, and Murphy Chollett; and numerous other family members and friends.
The family will be receiving friends 12:00 – 1:00 pm, Wednesday, December 28, 2022, with funeral services following at 1:00 pm, Wednesday, December 28, 2022 at Crowder Funeral Home Dickinson.  Committal service will be 2:00 pm, Thursday, December 29, 2022, at Hill Country Memorial Garden, New Braunfels.