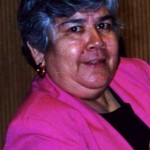 Irene Perez, resident of Dickinson, Texas, passed away, February 13, 2014. She was born March 21, 1946 in Harlingen, Texas to parents, Luis and Ester Rodriguez.
She was a longtime member of Shrine of the True Cross Catholic Church in Dickinson.
Irene was preceded in death by her grandparents, Guadalupe Garcia, Angelita Garcia, Benjamin Segura, and Amelia Segura; brothers, Luis, Francisco, and Leo Rodriguez.
She is survived by her loving husband Librado "Lee" Perez Sr.; parents, Luis and Ester Rodriguez; daughter, Lolita Perez; sons, Lee Perez Jr. and wife Christy, and Ricky Perez; sister, Araceli DeLeon and husband Danny; brother, David Rodriguez and wife Laura; and grandchildren, Anthony, Wesley, Ana, Anastasia, Morgan, and Destiny.
Visitation will be held Friday, February 14, 2014 from 5:00 p.m. to 8:00 p.m., with a rosary at 7:00 p.m., Crowder Funeral Home Chapel.
Funeral Mass will be held Saturday, February 15, 2013 10:00 a.m. at Shrine of the True Cross Catholic Church with interment following at Forest Park East Cemetery in Webster, Texas.
Honored to serve as pallbearers are Lee Perez Jr., Ricky Perez, Wesley Cannatella, David Rodriguez, Luis Albert Rodriguez, David Rodriguez Jr., and Anthony Cannatella.