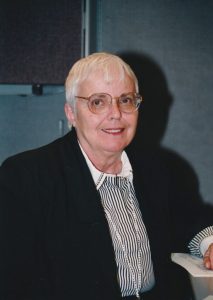 Irene Louise Perry, 86, of Friendswood, TX, passed away on August 6th, 2023.  Irene was born on May 17th, 1937, in Johnstown, PA, the daughter of C. Lawrence and Irene (Maloney) Evans.
Irene was preceded in death by her daughter, Nancy Browne. She is survived by her son, Eric Perry and his wife Janet Perry, and her son-in-law Phillip Browne; grandchildren Jason Browne, Stephanie Berg and her husband Jeremiah Berg, Robert Browne, Meghan Perry, and Alec Perry; great grandchildren Devin Browne, Eli Browne, Chloe Berg, Jackson Berg, Ana Browne, and Eva Browne, and numerous other family members and friends.
Irene was a graduate of Seton Hill College in Greensburg, PA where she received a B.A. degree in Mathematics and Art.  She worked most recently as a Financial Analyst for Texaco, Inc.  Irene had a passion for reading, golf, and baseball.  She enjoyed traveling internationally with her siblings and her daughter, Nancy, and she was most proud of spending time with both her grandchildren and her great grandchildren.
Please join us for a Memorial Service to be held on the 19th day of August 2023 at 2:00 PM at the Crowder Funeral Home, 111 East Medical Center Boulevard, Webster, TX 77598.