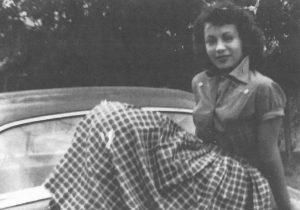 Irene Emma Shifflett, 85, of Dickinson passed away in the loving arms of her daughter Mary Ann on Thursday June 29, 2023.  She was born February 2, 1938 in San Antonio, Texas to Adolph and Mary Bauer.
Irene worked in retail sales, but for majority of her life was a housewife raising 4 children.  Irene kept an immaculate home where it was often noted that you could eat straight off the floors, they were so clean.  Hobbies….that women loved to shop!  She loved all different textiles and decorating her home, for which she had the eye to decorate – keeping up with the classic and current trends.    She loved music, playing cards and enjoyed spending time with her family.
Irene is preceded in death by the love of her life for 62 years Glen, daughter Diana, sons Darrell and Michael, grandson Dylan Young, son-in-law Robert Wooley, her parents and two sisters.
Irene is survived by daughters Mary Ann Mason and husband Mike, and Deana Wooley; her six grandchildren: Lacey Wooley (Joe), Jenna Cooper (Aaron), Bailey Wooley, Stephen Sudela (Kate), Taylor Noack and Kameron Noack; six great grandchildren – Madison, Landen, Grayson, Cole, Lincoln and Tennyson; numerous nieces and nephews.
A family graveside service will be observed at a later date.  Thanks for the phenomenal support received from the Harbor Assisted Living, Pearland and Star of Texas Hospice.