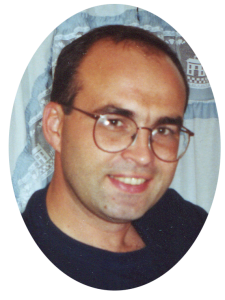 Igor Pintchouk, a beloved resident of Houston, TX, passed away suddenly on August 5, 2017 at the age of 51. He was born March 26, 1966 in the city of Zaporizhia, Ukraine. After receiving his degree in aeronautical engineering at the XAI Institute in Kharkov (UKR) in1989, Igor completed an incredible journey to the United States in 1991. It was at that time that he made the deep connections with Houston's Ukrainian community and other Houstonians that will resonate for many years to come. 
Igor took great pride in being a Texan, but he also maintained a powerful love and connection with the culture and community of his homeland, Ukraine. He spent many years volunteering as a teacher in Ridna Shkola Ukrainian School of Houston. He went on to support the community's efforts to aid Ukraine in any way he could after the Euromaidan Revolution of 2014. There is no question that his presence in the Ukrainian community of Houston will be sorely missed. 
Igor will also be missed at Gulf Interstate Engineering, where he has worked for many years as a Senior Principal Engineer. He possessed a technical knowledge that spanned from the mechanics of jet engines and pipeline systems to computer programming and website design. He approached every mechanical problem that was placed before him with the curiosity, patience, and determination of a true engineer. This attribute was reflected both in his work and at home, where Igor chose to remodel and repair almost everything with his own hands.
Igor is survived by his mother Vera Pinchuk, sister Irina Pinchuk, wife Ulyana Gavchak, children Valeria Pinchuk, Serhiy Gavchak,  Anna Pintchouk, and many, many more family members and friends all across the world. A funeral service will be held on Friday, August 11 from 1 to 3 P.M. at Crowder Funeral Home, 111 E. Medical Center Blvd. in Webster, TX. It will be followed by a memorial reception from 4 to 6 P.M. at Pokrova Catholic Church Hall, 9102 Meadowshire St. in Houston, TX. 
All that wish to pay their respects to Igor are welcome to join us in saying goodbye and celebrating his remarkable life.