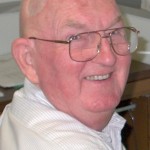 Hugh Linson Landrum, 88, of League City, peacefully departed this life on Thursday, January 16, 2014. He is survived by his wife of 27 years, Linda; his daughter, Tracey (Robert), and son Hugh Jr. (Sherry) and their children; Tracey's daughter, Marley, and son, Kinley, and Hugh Jr.'s sons, Hugh Linson IV and Evan, and daughter Emma. Hugh is also survived by Linda's daughters Christi (Windell), Traci (Lane) and Laini (Ted) and their children; Christi's sons, John Windell and Michael Neely, Traci's daughters, Hannah, Addison and Laney Carroll and Laini's daughter Sydney and sons, Sam and Charlie Scarborough.
Hugh was born and raised in Laurel, Mississippi in 1925, the youngest of seven children. He joined the Navy and earned his Navy wings serving as a Naval Pilot in the Pacific at the end of World War II. He put himself through the University of Houston on the GI Bill, graduating with a degree in Mechanical Engineering. Hugh then went to work in Texas City for Amoco Chemicals until he was hired by Galveston County to appraise industrial property for property tax purposes, thus starting a long and successful career in the Property Tax Profession.
In 1963, Hugh went into business with Morgan Biggs, soon becoming a partner and then, in 1975, becoming the owner of the appraisal firm and changing the name from Biggs, Landrum & Associates to Hugh L. Landrum & Associates. For over forty years Hugh appraised complex properties for ad valorem tax purposes. Over time, Hugh Jr. and Tracey each returned to the family business working with their Dad and becoming co-owners of the successful firm, building on the foundation that their Dad laid.
But Hugh was not all work and no play. Those who knew him knew that behind that shrewd, all business exterior, was a rascal and practical joker. Hugh loved people and people loved him. He loved to laugh and play jokes and was the life of every party. He enjoyed eating and drinking and flirting with all of the women. He was generous and loving and kind, always trying to help out where he could.
An avid golfer, Hugh enjoyed playing at South Shore or anywhere his friends were going to be. So long as he was with friends or family, Hugh was happy. He always enjoyed his work, but especially so after Linson and Tracey joined him and started having their families. He always joked that he didn't really work but just came in to make sure his kids were working and to hear about his grandkids – a great job.
Hugh. Dad. Who-baby. Senior. Paw-Paw. He will be greatly missed and the memories of time spent will be cherished by all who loved him.
A Celebration of Hugh's life will be held at 2:00 p.m. on Sunday, January 19, 2014 at Crowder Funeral Home, 1645 East Main St., League City, TX 77573 with a reception to follow at South Shore Harbour Country Club.
The family would like to express their deepest thanks to the wonderful staff and friends at Baywind Nursing facility for their love and care during Hugh's illness.
Memorial gifts may be made to Faith Community Hospice, 4721 Garth Rd., Ste. H, Baytown, TX 77521.