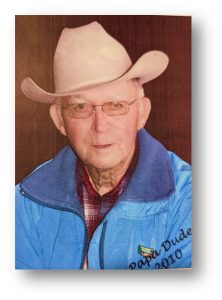 Herschel Guillot, also known as Dude, passed away at the age of 91 years on February 18, 2022 in Galveston, TX. Herschel was born March 24, 1930 to Paul Emeric Guillot and Vallie Eva Reed Guillot in Vick, LA. He was the fourth of seven children. He married Myra Couvillion on March 25, 1948 and together they raised four children.
Herschel attended school and graduated from LaFargue High School, Effie, La. in 1947.  He and Myra, later moved to Pasadena, TX. where he worked 30 years at A.O.Smith/Armco Steel, retiring in 1980. He was co-owner with his wife Myra of a Pasadena restaurant, The Cajun Corral, in the 1970's. After retirement Dude and Mike moved back to Louisiana.  He attended LSU Shreveport and became a real estate agent in 1982.
Herschel is a long time member of Pasadena, First Church of the Nazarene, Pasadena, Texas.
He is also a member of Masonic Lodge # 146, Coushatta, La. Chapter and Council, Coushatta La Red Cross of Constantine of Louisiana, Crusader Commandary #21 of Minden, La.; Past Patron of Order of Eastern Star, Harmony Chapter #6, Coushatta, La.
 Herschel enjoyed wood working where he created many items in his wood shop. After many years in Coushatta, LA, they moved back to the greater Houston area to be closer to their children, eventually retiring in Galveston, TX. He volunteered many years as greeter and all-around encourager at Clear Lake Christian Academy, where all the students knew him lovingly as "Pops."
Herschel was preceded in death by his wife Myra, and his parents, Emeric and Vallie Guillot. He was also preceded in death by his brothers, Earl Emeric Guillot, Malone Omega Guillot, Stonewall Jackson Guillot, Truman Guillot, his only sister Viola Tesa Guillot Bordelon and Jimmy Guillot.
He leaves behind his children; son Bruce Michael Guillot and wife Theresa of Jamaica Beach, TX, daughters Judith Gayle Vandiver and husband Steve of Livingston, TX, Christine Amelia Smith and husband Ronnie of Vian, OK, and Gwendolynn Rae Rodgers and husband, Kevin of Vian OK.
He is also survived by his nine grandchildren Alicia Scala, David Vandiver and spouse Michele, Melissa Phelan, Heather Cline and spouse Brett, Matthew Smith and spouse Amanda, Michael Blake Guillot, Michael Charles Rodgers and spouse Shelby, Shannon Guillot-Wright and spouse Will, and Stephanie Rodgers. He is also survived by his brother-in-law Marion Voelker Couvillion of Dripping Springs, TX.
His great-grandchildren include Alex Vandiver and fiancé Jade, Austin Vandiver and spouse Kiara, Ashton Vandiver, Amelia (Mia) Vandiver, Tyler Phelan, Dustin Phelan, Alexis Cline, Amelia Jane Cline, Justus Cline, Nate Smith, Brookelynn Dianne Smith, Carson Smith, Olivia Yoder, Edward Scala Jr., and Dean Wright. He also leaves behind one great great grandson, Baylor Hayes Vandiver. In addition, He leaves behind many nieces, nephews and extended relatives.
Family visitation will be ­­­­­­­­­­­9:00 am at Faith Community Church adjacent to Crowder Funeral home at 2422 East Broadway Street, Pearland, TX 77581 on Tuesday, February 22, 2022.  Final services will follow at 10:00 am. Service will be officiated by Reverend Mike Hooper and Rev. Bruce M. Guillot
The family would like to thank the staff of The Meridian Retirement Community in Galveston, TX.  Their care, thoughtfulness and tireless effort meant so much to them during this hard time of transition.  They truly exemplified Christian charity in their actions and hearts.
Herschel Guillot was one of the most giving people to have walked God's good earth.  In lieu of flowers please feel free to make a donation to your favorite charity.