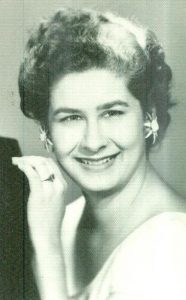 Herma Thornell Robinson, 80, passed away Thursday, January 18, 2018 in Webster, Texas she was born September 30, 1937 in Port Arthur, Texas to Ralph and Herma Thornell.  Herma graduated from French High School in Beaumont Texas she attended beauty school in Beaumont and worked as a hair dresser.  She moved to Houston in 1966 where she married Kenneth Robinson in 1967.  She continued in the beauty business for 40 years.
Herma loved animals, having many cats and dogs.  She loved to crochet, making many lovely afghans, bed spreads, etc.
She is survived by her husband of 51 years, Kenneth Robinson and sister Karen Ross of Tyler, Texas, brother Ralph Thornell of The Woodlands, Texas and numerous nieces, nephews, great nieces and nephews.
A funeral service will be held Saturday, January 27, 2018 at 3pm at Crowder Funeral Home, 111 E. Medical Center Blvd., Webster, TX 77598. In lieu of flowers you may send memorial contributions to The Alzheimer's Foundation or elements of your choice.