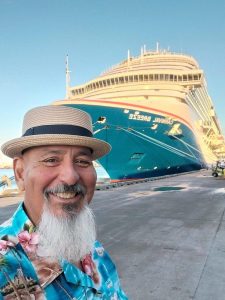 Henry Torres, Sr., 61, of Galveston, passed away Thursday October 26, 2023, in Galveston. Henry was born March 15, 1962, in Galveston, to Eugenio and Lydia Torres.
Henry is preceded in death by his parents, Eugenio and Lydia Torres; brother, Eugene Torres Jr.; mother-in-law, Bertha Benavides, and in-laws, Liz and Greg Perez, Lillian De La Cruz, and Mike Garza. He is survived by his wife, Sylvia Torres; one daughter, Elizabeth Diane Torres of Galveston; one son, Henry Torres, Jr. (Andrea) of Galveston; three grandchildren: Demery, Aviana, and Elynna; four brothers, Eduardo Torres, Jose Torres (Rosamaria), Samuel Torres, and David Torres (Tere Maria); in-laws Chris Garza, R.C. De La Cruz, Patty Meyer (Bob); nephews and nieces, Jose Torres, Jr., Samuel Torres, Jr., Michael Torres, Alex Torres, David Torres, Jr., Lydia Torres, and Jennifer Torres; numerous extended family and close friends.
Henry "Gunner" Torres was a lifelong resident of Galveston and attended Ball High School. He was a 46-year veteran Longshoreman with the International Longshoremen Association (ILA) Local 20. He served in various union leadership positions, was a mentor to numerous new longshoremen, held supervisory roles, represented the Local at national conferences, and considered an expert on the docks. His accomplishments with ILA Local 20 were long and impressive.
Gunner was a people person that never met a stranger. He would buy you a drink, find out your life history, and you would be invited to his next party by the end of the conversation. He was the life of the party with a smile that could light up a room. You could also hear him a mile away. He loved live music, gambling, and sports, card nights with the guys, bar-b-queing, crawfish boils, and ice cold Miller Lite. While he knew how to have fun, Gunner's generosity was unparalleled. He has cooked for hundreds of fundraisers and benefits for family, friends, and strangers without hesitation. Gunner contributed his time, money, and opinion whether you wanted it or not to anyone and everyone that asked. He's the first person to call and check on you in your time of need and there to lend a helping hand. You wanted him in your corner.
Gunner was also a family man. His first love was his mother, whom he talked to everyday while she was alive followed by his wife, Sylvia of almost 42 years. He was proud of his two children, Henry Jr. and Elizabeth, but his favorite role was being a grandpa or paw-paw to his three granddaughters. If you ever wanted to see his hard exterior removed, just have one of his granddaughters stare at him with their big brown eyes and ask Paw for some candy, popsicle, or whatever else they wanted.
Gunner loved hard, partied hard, and lived his life to the fullest. His presence will be sorely missed by his family, friends, ILA brothers and sisters, and Galveston community.
Honorary pallbearers are Ramiro Silva, David Copado, Tim Schillings, Manuel Trevino, Donald Borsellino, Jr., John Anderson, Robert Malmstrom, Ruben Garcia, and Mike Nelson.
A memorial service will be held at the ILA Local 20 (6501 Harborside Dr., Galveston, TX, 77554) on Wednesday November 1, 2023 at 2:00 PM.
A special thanks to the International Longshoremen's Association for their support and recognition of Henry's longtime career as an ILA member.
Arrangements are under the direction of the James Crowder Funeral Home in La Marque.