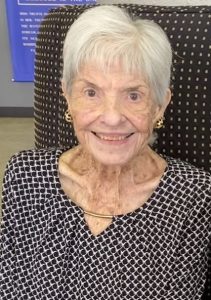 Helen Loraine Vyvial, 92, resident of Santa Fe, Texas arrived in Heaven, Sunday, October 15, 2023. Loraine was born in Galveston, Texas on December 18,1930 to proud and loving parents, Otto and Della McDonald. She was raised in Galveston County.
Loraine was a loving and giving daughter, wife, mother, sister, aunt, cousin, grandmother, great-grandmother, great-great-grandmother as well as devoted friend.
She was happily married to her beloved husband Allen for many, many years. Their love and unwavering commitment to each other was something to admire. She devoted her life to the Lord. Her faith was at the forefront of her life in everything she did and every conversation she had. She loved her only son Wayne more than anything and lived her life for him and Cindy and her 4 granddaughters and she loved her family well. She loved being a Mimi to her girls and all their friends. There was not a game or event she would miss. She was involved in their lives in every way possible up until the very end of hers. She had a knack for entertaining and always made every occasion, big or small, feel special.
Loraine was preceded in death by her parents, husband Allen Vyvial, son, Wayne Vyvial, and great-granddaughter, Jaycee Martinez.
She leaves behind to cherish her memory, daughter-in-law, Cindy Vyvial; grandchildren Carrie Vyvial, Kelly Owens and husband Wesley, Courtney Morgan and husband Shawn, and Kristen Womack and husband Alan; great-grandchildren, Jayden Martinez, Tristan Dobson, Caden Cannon, Traven Morgan, Talan Morgan, Jaylen Martinez, Keegan Owens, Olivia Owens, and Kalan Womack; great-great-grandson, Raylon Jay as well as numerous extended family and friends.
Her support for everyone she came in contact with will always be remembered. She will be deeply missed but we celebrate her heavenly homecoming. She is reunited with her husband and son once again!
In her honor, a visitation will be held, Friday, October 20, 2023, from 10:00-11:00am with a funeral service at 11:00am in the Crowder Funeral Home Chapel, Dickinson, Texas.