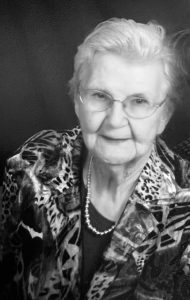 Helen Foster passed away peacefully on November 8, 2022, with her family present.  Helen McCann Foster was born to Carroll and Clara O'Neal McCann on May 17, 1922 in Lacey, Drew County, Arkansas.  Helen had an older brother, Perry, and two younger sisters, Martha and Bessie.  She was raised a farm girl on the family plot a few miles from Monticello, Arkansas.  She started school at 5 years old in a one-room school with eight grades and one teacher for the 30 students.  At 3rd grade, consolidation of schools resulted in her attending Drew Central School, on the campus of Monticello A & M University.  She graduated from Drew Central High School in 1939 and then attended a business school on that campus.
She then taught business skills at business schools in Warren and Pine Bluff, Arkansas and Greenville, Mississippi.   It was in Warren that she met Buck Foster, a paratrooper, the man who was to be her husband.  Helen and Buck married when he was on leave from the U. S. Army training camp, on December 29, 1943.  With Buck bound for the Pacific war, Helen then went to work at a munitions plant in Minden, Louisiana, making a living while supporting the war effort.  She was a "Rosie the Riveter".
In 1947 they settled in La Marque, Texas to raise their children.  When the two boys started school, she went to work for Humble Oil Company.  They had a third son, Ron, in 1954.  She began working at the UTMB campus in Galveston, where she spent 9 years as a secretary in the medical school and the psychiatric unit.  In 1967 she was hired by the Board of Trustees as the Executive Secretary to the President of the newly formed College of the Mainland in Texas City, Texas. In this position, she served under five presidents before she retired in 1993.
Helen was preceded in death by her husband Buck Foster, her son Bill, her brother Perry McCann, sisters Martha Tullos and Bessie Crump.  She is survived by her son Bobby and his wife Judy, grandchildren Tammy Sebesta (Matt), Sally Arlington (Don), Bobby Foster, Jr., Eric Smith, great grandchildren Luke Sebesta, Donald, Travis and Cameron Arlington, son Ronald and his wife Mary, grandchildren Myra Overeem (Brian), Adrian Hernandez, and Ronald Jr. (Valerie). Great grandchildren Keith and Noah Hernandez, Brittany Wilson (Gabriel), Kaitlin Coulter, Jayme, Ava, Ian Foster and great- great grandchildren; Owen Wilson and Quinn Arlington.
Helen participated in many groups and associations in the community with her work, one of which was the Professional Secretaries International (PSI).  She served as an officer for many years and was awarded Secretary of the Year in 1975.  After she retired, she volunteered her time on city committees and in many capacities in the First United Methodist Church of La Marque.  She continued to volunteer as an editor for church communications for many years.  She made and kept many friends through those groups and associations.  She will be truly missed by her family and many devoted friends.
A Memorial visitation will be on Saturday, December 3, 2022 from 10:00am – 11:00am with the Celebration of Life at 11:00am at Crowder Funeral Home in La Marque with Pastor Mike Selzer officiating.