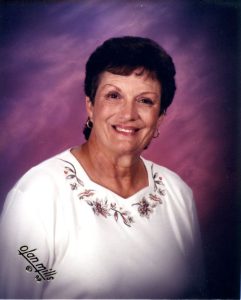 Helen Dolores Gay, 84, resident of Santa Fe, passed from this life, March 29th, 2023, surrounded by her family and close friends.  Dolores was born to proud and loving parents, James Emery Henderson and Helen Thompson Henderson at home March 29th 1939 in Winnfield, LA.
Helen spent her career working in insurance as an agent for American National. She received numerous awards and vacations for her success. Dolores enjoyed gambling and shopping, but her true passion was fishing with her sons. You could always stop by her home and expect to see her with a fresh pot of coffee and a welcoming smile. She was an animal lover and has left behind her beloved Rat Terrier, Dixie.
She is preceded in death by her parents,  her brother Billy Henderson and her loving husband Charles "Skip" Gay.
Helen leaves to cherish her memory, her daughters Lisa David and husband Jerrel, Anita Weldon and partner Chuck Anderson, Pamela Secades; sons Ronny Turrentine and wife Vanessa, Ricky Turrentine, and Randy Turrentine and wife Mary; sisters Ann Cockerham and Jan Smith; brothers Thomas Henderson and wife Nelda, Morris Ray McQuiddy and Terry  Glen McQuity; 12 grandchildren; and 11 great-grandchildren.
A visitation will be held on Sunday April 2, 2023 from 5pm to 7pm. Services will be held at Crowder Funeral Home's chapel on Monday April, 3 2023 at 11am with interment taking place at Galveston Memorial Park Cemetery following the service.