Hazel Marie Cannon Moreland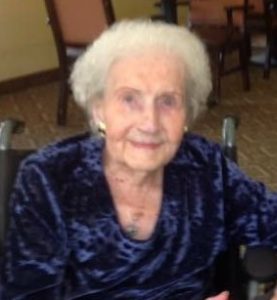 Hazel Marie Cannon Moreland passed away at Clear Lake Hospital on Monday, August 7, 2017, surrounded by her beloved family.
A longtime resident of Texas City, she was born on December 10, 1919, to Charlie and Lela Cannon in Seminole, Oklahoma.
When she was 19, Hazel married her sweetheart Troy Moreland on March 23, 1939, in Seminole, Oklahoma.  Together, they faced the conflict of World War II as they traveled to Troy's Navy assignments overseas.  Later, Troy was hired by Union Carbide and the couple moved first to Spring Branch, Texas, and then to Texas City, Texas.  The couple made lifelong friends through their work with the Chamber of Commerce, the Elks Club where Troy was an Exalted Ruler, and the RV Club of Airstream Owners.  Hazel and Troy spent many wonderful days in their Airstream overlooking Lake Sam Rayburn and traveling throughout the U. S. with the Airstream Club and with family on adventures all over the world.  Hazel devoted her life to her family and her church.
She will be greatly missed!
Hazel was predeceased by Troy Moreland, her husband of 72 years; her parents Charlie and Lela Cannon; three brothers, and one sister.
Hazel is survived by her son Larry Lee Moreland and his life partner Lucille Wilbur.
She is also survived by four grandchildren—Lance (Christina) Moreland of Cypress, TX; Brett (Michelle) Moreland of the Woodlands, TX; Natalie (Sean) Joslin of Williamsburg, VA; and Emily (Richard) Lunsford of San Antonio, TX.    In addition, she was survived by her great-grandchildren Luke Moreland, Ashton Moreland, Bryson Moreland, Meredith Moreland, Madison Kaczynski, Hailey Kaczynski, Cole Lunsford, and Olivia Lunsford.  She will also be fondly remembered by her sister-in-law Mary Cannon and by her nieces and nephews and brother-in-law Gerry Moreland and wife Mary Margaret.
Visitation will be from 9:00am-10:00am on Friday, August 11, 2017 with the Funeral services to follow at 10:00am on Friday, August 11, 2017 at the James Crowder Funeral Home, 401 Texas Ave, La Marque, TX, with Dr. C.O. Magee officiating. Burial will be at Forest Park East Cemetery, 21620 Gulf Freeway, Webster, TX.
Pallbearers will be Lance Moreland, Brett Moreland, Rich Lunsford, Bryson Moreland, Cole Lunsford and Harry Baughman.