Hayley Danielle Yarbrough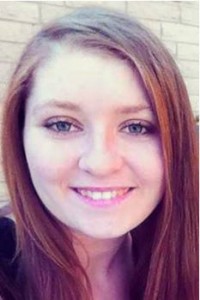 Hayley Danielle Yarbrough, 20, of Santa Fe, Texas passed away on May 19, 2015 at Mainland Medical Center Hospital in Texas City, Texas. She was born on June 23, 1994 to Mark Yarbrough and Rosetta Gibbs in Galveston, Texas. She was a life time Resident to Santa Fe, TX.
Hayley was a member of Santa Fe Christian Church and was Baptized after she gave her life to the Lord while she was a member of their Respect 412 youth group. Hayley was a 2012 Graduate of Santa Fe High School and studied Cosmetology at Mainland Community College. She was interested in studying Criminal Justice, and was planning on enrolling in the Police Academy. She also loved Photography & Floral Design. She was a huge animal lover and volunteered for several rescue centers. She helped build a house with Habitat for Humanity. Growing up she participated in Cheerleading, Softball, Basketball, & Taekwondo. She won many fishing trophies with her Great Uncle Harvey & Sandra Browning. Hayley loved her Family & Friends but everyone knew she was a True "Daddy's Girl!" She loved her Fiancé, Zach Robertson and Step-Daughter Annalise to the moon and back, they were planning their wedding for next year.
She is preceded in death by her Grandfather, Daniel Virgil Vanderslice; whom she was named after.
Survivors include her Parents- Mark & Michelle Yarbrough and Rosetta & Leslie "Bubba" Gibbs. Sisters – Shelbie, Brenda & Leslie Jean Gibbs; Brothers- Patrick & David Gibbs, Caelan McCain, Ryan & Justyn Brown. Grandparents: Ann Vanderslice, Zane & Nell Yarbrough. Godfather/Uncle Johnny D. Vanderslice Aunts & Uncles – Margaret & Jr. Vale, Karren Lang, Cheryl & David Waters, Cynthia & Chuck Slack, David & Kitsaa Vanderslice, Jeff & Michele Yarbrough. Immediate Cousins – John L. Vanderslice, Joanne Thibodeaux, James Vanderslice, Kristina James, Krystal James, Jascey Lang, Jessica Lang, Steven Stevens, Julian Vale, Mykayla Vale, Breanna Partee, & Meagan Gates. Alicia Prejean, Shana Prejean & Christina LaFrage were lifelong friends, as they were like sisters to Hayley.
Pall-bearers Patrick Gibbs, Caelan McCain, Justyn Brown, Ryan Brown, Julian Vale, Chris Arnold and James Long. Honorary pall-bearer is David Gibbs.
The viewing will be held Friday, May 29, 2015 at Crowder Funeral Home in Dickinson, 5pm to 8pm. Celebration of Life will be held at Crowder Funeral Home on Saturday, May 30, 2015 at 1pm with Pastor Darrell Boswell and Richard Pourchot officiating. Interment will follow services at Galveston Memorial Park in Hitchcock, TX. Fellowship after service will be held at Santa Fe Christian Church, 13602 FM 1764 Santa Fe, TX 77510. In lieu of flowers you may assist the family to offset funeral costs and other expenses. Please visit http://m.gofund.me/vbs2sb3 to assist the family with this tragedy.