Harvey Buster "H.B." Shaw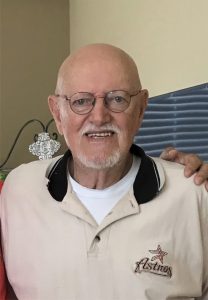 Harvey Buster "H.B." Shaw passed peacefully on Wednesday June 1, 2022, with family by his side. Please join us for a Celebration of Life Memorial Service at Crowder Funeral Home, 111 E Medical Center Blvd, Webster, TX 77598, followed by a reception on Saturday June 18th. We will greet guests from 10:30 am to 11:30 am, then the service will start at 11:30 am with a reception from 12:30 pm to 2:00 pm.
H.B. was born on March 19th 1934, in Green Hill Alabama to William Lee Shaw and Doshia Gladney Shaw. He was raised in Green Hill working at the family farm and general store. After graduating from Rogers High School, H.B. enlisted in the US Navy where he was stationed in San Diego & Pearl Harbor in Hawaii. He also participated in the H Bomb testing at Bikini Island.
After his discharge from the US Navy, H.B. stopped in Pasadena Texas to visit his brother, James Shaw and that is where he met his wife Karen Doctor. H.B. and Karen bought a house on Peach St in Pasadena and that is where they raised their 5 children – Debbie, Bill, Kathi, Sandi, and Angie.
H.B. retired from the Port of Houston after 20 plus years and moved to Lake Livingston. He spent most every weekend playing softball with the Houston Cubans Softball League where he became the President of the league and made many life-long friends. Later in life, H.B. decided to move to Florence Alabama where he lived with his dog Rosie to be closer to some of his siblings.
Even though HB lived away from his family, he made magnets out of every grandchild's picture that he was sent and he posted it on his refrigerator. In September 2021, H.B. moved back to Texas and into The Delaney senior living apartments in League City. He spent most of his time watching his beloved Astros play baseball and the favorite part of his day was dining with his many friends.
H.B. is preceded in death by his parents, his two brothers and two sisters, his wife of 46 years Karen Shaw, and his daughter Sandra Shaw Deyo, and son in law David Schuren.
H.B. is survived by his children Deborah Ann Schuren, William Frank Shaw & wife Susie, Katherine Anneke Ayala & husband Buddy, & Angela Marie Williams; son in law Randy Deyo; Grandchildren Jessica Schuren Prater, Jared Schuren, Justin Schuren, Mindy Shaw Anderson, Mitchell Shaw, Kara Ayala Morris, Cameron Ayala, Sarah Deyo Velez, Steven Deyo, Peyton Chadwick, Saxton Williams, Kenzington Williams, and their spouses and along with great grandchildren.