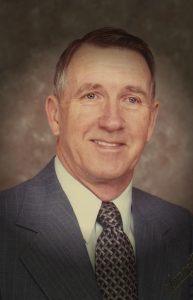 Harold was born on November 16, 1921 in Winters, Texas, the son of a country doctor and a devoted Christian mother. He had an identical twin brother, Gerald, and two older brothers, Henry and J.W., who were collectively known as the four Dixon brothers.
Harold and Gerald graduated from the University of Texas in March of 1944 with degrees in chemical engineering and were soon working on the Manhattan Project, helping to build the atomic bomb. They worked under Union Carbide first at Columbia University in New York City and then were transferred to Oak Ridge, Tennessee in October of 1944.
In 1948, Harold married Yvonne Thompson. Harold and Yvonne had two daughters, Betsy and Ann. In July of 1952, the family moved to Paducah, Kentucky. Still working for Carbide, Harold was transferred to La Marque, TX in January 1960.
The Dixon family made their home in Dickinson, Texas, where Harold lived from 1961 until the date of his death on October 23, 2016. During this time, Harold also worked a short time at Dow Chemical in Freeport, but ended his career with Marathon Morco (later renamed Penreco) in Dickinson, where he was general manager at the time of his retirement in 1989.
Harold was preceded in death by Yvonne Dixon, his wife of 55 years, as well as all three of his brothers. He is survived by his daughter and son-in-law, Betsy and Ken Mountain of Hunt County, TX; daughter and son-in-law Ann and Stephen Baker of Anchorage, AK; grandson Jimmy Baker; sister-in-law Carolyn Dixon of Knoxville, TN; sister-in-law Betty Nichols of St. Clair Shores, MI; brother-in-law Everett Stevens of Amarillo, TX; and several nieces and nephews.
Harold is also survived by many precious friends and neighbors, including several who adopted him into their families during his later years–the Lowell Holmes Family, the Dexter Klein Family, Bobby and Sherry Chapman, and the wonderful and supportive people from Dickinson First United Methodist Church.
A memorial service will be held Friday, October 28th at 1:00 at the Dickinson First United Methodist Church with a reception to follow. Memorials may be sent in Harold's honor to Gulf Parkinson's Source, P.O. Box 1054, LaMarque, TX; 77568-1054; or the Haiti relief fund Star of Hope P.O. Box 427, Ellinwood, KS 67526.