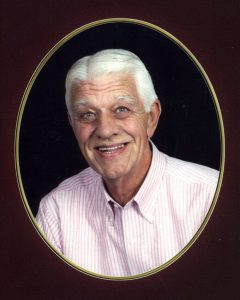 Harold Lee Jay, 77, of La Marque, TX passed away suddenly on Saturday, November 25, 2017.
He was born May 24, 1940 to Jaunice and Tilman Jay in Wynnewood, OK.
He grew up in La Marque, TX and played football for the La Marque Tigers. After graduation he attended Texas A&M and then Southwest Texas State, in San Marcus, TX. He met and married Ronda Smith of Dallas, TX. They moved back to La Marque where he coached football under Orville Etheredge.
Harold and Ronda had three children, Monty, Stacy and Christy. After coaching football and teaching math Harold went to work for NASA and then onto Central Data Processing in Texas City.
Harold is survived by his wife of 55 years, Ronda, son Monty and his wife Jana of Round Rock, TX, daughter Stacy and her husband Ric of Kemah, TX and daughter Christy of La Marque. Harold had two grandchildren Nicolette (Niki) and Josh Elvir.
A visitation for family and friends will be on Saturday, December 2, 2017 at 10:00am at the Crowder Funeral Home in Dickinson, TX. A Memorial Service will follow at 11:00am with Dr. David Smith and Jerry Esmond officiating.
Family would like to suggest in lieu of flowers to make contributions to First Baptist Church of La Marque P.O. Box 456 La Marque, Texas 77568.