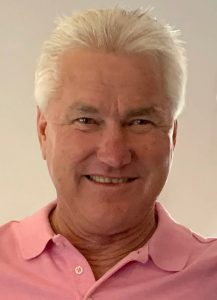 DICKINSON – Hal Joseph Dues passed from this life to eternal life on October 20, 2020, he was 66 years old.  Hal was born at County Memorial Hospital in La Marque, Texas, on September 22, 1954 to Bob and Bonnie Dues.  He was one of six siblings and his character was larger than life.  Hal never met a stranger, he loved talking and being with people.  His long list of friends and fans ranged from 9 years old to 90, and his childhood friends are still among his closest allies.  He inherited his lifelong passion for baseball from his PawPaw, who played sandlot baseball with the famous, Monty Stratton. While attending Dickinson High School, Hal was being scouted by Montreal Expos' scout, Texas City's "Red" Murff.  And, in 1974, Hal signed a contract to play for the Expos ball club.  In 1975, Hal received the Bill Blackburn Memorial Trophy as West Palm-Expos' "Pitcher of the Year".   He met the love of his life at age 15, Harriet Bishop, she was 13, after less than a decade of dating, they married on February 28, 1976.  While pitching a two-hitter in Quebec, the fans suddenly roared following an announcement during the game.   Hal had to assume that the applause was for his strike outs, as the broadcast was in French.  He didn't find out until after the game that wife Harriet, back in Texas, had given birth to their first child, a daughter.  That was August 25, 1977, a day he'd never forget; he won the game, he had a baby AND, he got called to move up to the Majors.  A memorable thrill for his family and fellow Dickinsonians, was watching Hal pitch against the Astros in the Astrodome in 1978.  After 10 years with the Montreal club, he retired from the sport that he loved so much, due to unsuccessful "Tommy John" arm surgery.  Hal and Harriet, along with their baby girl, returned to Dickinson, Texas, where he opened a small, neighborhood bar, appropriately called "the Dugout".  It was a great place for old friends to reminisce and reconnect with their hometown sports icon.  Leaving the Dugout behind, he worked the next 25 years for Dienst Distributing as a beer and wine sales rep.  Hal was inducted in the Dickinson High School Athletic Hall of Fame in 2002.  After 25 years at Diesnt Distributing, Hal purchased a Pepperidge Farm franchise that included stores in Dickinson and nearby communities.  He was known as "the cookie man" to his great nieces and nephews, a result of his thoughtfulness in always having goldfish, cookies and snacks for his favorite little people.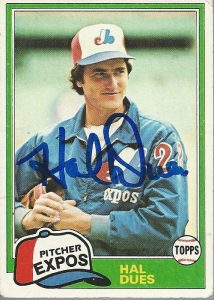 Hal lived life to the fullest.  His love of baseball was equal to his love of fishing and hunting.  But nothing was more important to him, than spending time with his beloved grandsons, family and friends.  He never entered a room quietly, he was loud, outrageously funny and the power in his hugs left no doubt of the love he felt for you.  If Hal couldn't make you laugh, God didn't gift you with a sense of humor.  The stories he told of his life experiences were colorful, entertaining, and hilarious.  His larger-than-life absence has created a hole in the hearts of all that love him.
Hal has joined his grandparents, dad and older brother, Rudy, in heaven. The Lord knows that Heaven will never be the same after Hal's arrival. Hal is survived by his mother, Bonnie Dues, wife Harriet Dues, daughter Jennifer Bradley, son-in-law Tim Bradley, son Tyler Dues and wife Nicole, four grandsons, Miles Bradley, Caston, Nolan and Luke Dues, and of course, his best fur buddy, Drake. Leaving behind to seek comfort and laughter in his memories, are his sisters Diane Magliolo (Dr. Mike), Julie Masters (Ron), Eddie Dues (Betsy), John Dues (Lori), sister-in-law Suzanne Dues, and an abundance of nieces, nephews, cousins, friends and neighbors.
Visitation will be Sunday, October 25, 2020, 5-7pm.  A funeral Mass will be held on Monday, October 26th, 11:00am, both will be held at Shrine of the True Cross Church, 300 FM 517 E. Dickinson, Texas.  Masks and social distancing is required. Pallbearers will be Anthony Dues, Jonathon Dues, Corey Magliolo, Paddy Magliolo, Scott Bishop and John Hammond.
In lieu of flowers, the family asks that memorial donations honoring Hal, be made to Dickinson Little League, P.O. Box 626, Dickinson, TX 77539 and the Bayou Animal Services, 3100 Deats Rd, Dickinson, Tx 77539.