Gwendolyn (Susie) Cargill Williams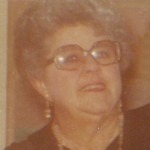 Gwendolyn (Susie) Cargill Williams, 88 of Lafayette, Louisiana, passed away Thursday, September 11, 2014 at her residence.
Mrs. Williams was born June 14, 1926 in Galveston, Texas, the daughter of Henry Grady Cargill and Pearl Postal Cargill. Gwendolyn was a longtime resident of La Marque and a member of St. Mary's Catholic Church in League City. She was preceded in death by her parents, her husband, Irving D. Williams; sister, Edith Sabatier; and brother, Rev. Monsignor Eugene Cargill.
Gwendolyn is survived by her two sisters, Dolores Celli Jensen of Texas City, Texas and Barbara Cargill Danner of Lafayette, Louisiana. She is also survived by numerous nieces and nephews and other family members.
Visitation will be Sunday, September 14, 2014, from 6:00 p.m. to 8:00 at the James Crowder Funeral Home in La Marque, with a Rosary service a 7:30 p.m.
Funeral Mass will be 10:30 a.m. Monday, September 15, 2014 at St. Mary's Catholic Church, 1612 East Walker Street, League City, Texas, with Father Howard Drabek, officiating. Interment will follow at Mt. Olivet Catholic Cemetery in Dickinson, Texas.
Pallbearers will be Mark Sabatier, Michael Sabatier, Brent Walker, Matthew Sabatier, Chris Foreman, and Faisal Saeed.