Gwen Nunez Neugent
March 13, 1923 – March 27, 2018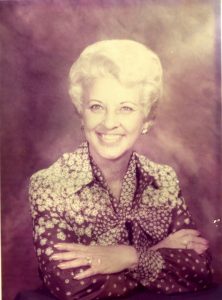 Gwen Nunez Neugent passed away Tuesday, March 27, 2018, after a brief illness. She was 95 years old.
Born to Sebastian and Victoria Nunez, Gwen was born March 13, 1923, on a houseboat in the marsh in Port Arthur, Texas. She grew up in Texas City where she graduated high school in 1941. Following graduation, she met Dean Neugent, a 1941 graduate of the University of Texas who was serving in the US Army Band in Hitchcock. They were married on May 28, 1942. Following Dean's army discharge in 1945 they moved to his hometown of Mt. Pleasant, Texas where Dean became the District Attorney. After the Texas City explosion in 1946 where Gwen lost her father who was a volunteer fireman, Dean and Gwen moved to Texas City where Dean opened Neugent and Lillienstern Law Firm. As a homemaker and mother in 1957, they moved to Dickinson where Gwen became very involved in Dickinson activities. Dean's service in the Texas State Legislature allowed Gwen an exciting life and many opportunities to meet interesting people.
Gwen was well known for her ability to get things done while always maintaining her sense of humor which enabled her to achieve many accomplishments in the business and civic world. She was a civic leader and beginning in 1968, became active in organizations such as the Dickinson Chamber of Commerce where she held many positions including Chamber President and managed the chamber for over 7 years. She was also named Woman of the Year multiple times by the Chamber Board. She held executive positions in numerous organizations. She was the founder of the Dickinson Railroad Museum Center which was a project of the Weed 'n Wish Garden Club. Gwen also hosted a weekly gardening radio program for 3 years. She received many awards for her accomplishments such as being honored by the Texas House of Representatives in 1971 for civic involvement, Garden Club Women of the Year, Meritorious Service Award from the national council of Garden Clubs for her radio work and was 1 of 3 women from 50 states honored for outstanding service to her club and community. She was the first woman to serve on the Board of Directors for General Telephone Company of the Southwest. Gwen worked for many years at Citizen State Bank in Dickinson and was Vice President for Marketing for over 20 years. She was a board member of the Dickinson Historical Society and was recently recognized for her contributions and dedication. She was known for her contagious laugh, and fun-loving spirit. She loved to travel, dance and listen to live music. She was always the life of the party!
Gwen is survived by her son Lanis Neugent and wife Drenda of Clear Lake, daughter Cyndi DePalermo Cano and husband Cliff of Dickinson. Grandchildren include, Jason Neugent, Jeramy Neugent, Derin DePalermo and wife Bethanie, Diane Summers and husband Craig, Jason Manlove and wife Virginia, Jennifer Holbert and husband Gary, and 9 great-grandchildren, Michael, Ava and Austin DePalermo, Emileigh and Hayley Summers, Anthony and Adrianna Manlove, and Kayla and Madison Holbert. She is preceded in death by her husband, Dean Neugent.
The family would like to thank the caregivers at Ashton Park for their love care and concern for Gwen. Charitable contributions can be made in her honor to the Dickinson Historical Society or St. Jude Children's Hospital.
Visitation to be held at Crowder Funeral Home in Dickinson, Thursday, March 29, 2018, from 5-8pm with rosary at 7 pm. A celebration of life will be held at Crowder Funeral Home at 11:00 am, Friday, March 30, 2018. Graveside services will be 12:00 pm, Wednesday, April 4, 2018, at Mt. Olivet Cemetery in Dickinson.