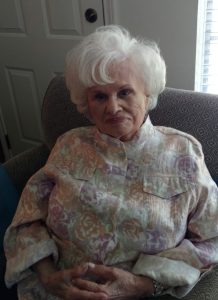 Gwen Bailey, 94, of Houston, Texas passed away on December 13, 2022, in Webster, Texas. Gwen was born in San Diego, California on April 16, 1928, to Albert and Frances Wilson Leyva. Gwen was one of 7 children and because she was the youngest, she was always affectionately known as "Aunt Little" by her family. Gwen attended Herbert Hoover High School in San Diego, and later San Diego State University. While she was working as a Secretary in the Engineering Department at General Dynamics, she met the one and only love of her life, Clay Bailey, who after serving in the United States Coast Guard was also working at General Dynamics.
The couple had 3 children while living in California, and then moved to Houston in 1964 when Clay was offered a job at NASA as an Aerospace Engineer. As Gwen was an excellent secretary and especially a whiz at shorthand, she was hired at Ellington Air Force Base to work for a USAF Colonel. She later moved on to work at NASA as the Executive Assistant to the Director of Engineering and Development for all of NASA. After they both retired from NASA, they enjoyed traveling across the United States with several Coast Guard families and loved every minute of it. After Clay's passing in 1999, Gwen spent many joyous years volunteering at Clear Lake United Methodist Church, cheerfully assisting in the Church office. Gwen led an active and full life as a loving wife and mother, a friend to all who knew her, with an infectious smile and attitude which was the outflow of a loving and faithful heart and soul.
Gwen also enjoyed being a member of numerous clubs and organizations including NARFE where she always loved reading jokes at every meeting. All who knew her watched as she avidly participated in her most favorite activities including playing bingo, and line dancing where, as soon she heard the music, she was up and moving.
Gwen was preceded in death by her husband, Clay C. Bailey. She is survived by her three children: Cindy Bailey of Houston, Texas, Fran and her husband Stevie Edwards of Austin, Texas, and Alan and his wife Janet Smith Bailey of Webster, Texas and their children Jacob and his wife Amy Smith and their child, Jeremy and his wife Jacqueline Smith and their 2 children and Taryn and her husband Charlie Keeler and their 2 children. She is also survived by her sister-in-law, Myrna Bailey, of Sherman, Texas and numerous nieces and nephews and other extended family and cherished friends.
A Celebration of Gwen's life will be held at 11:00 a.m. on Saturday, January 14, 2023, at Clear Lake United Methodist Church located at 16335 El Camino Real, Houston, TX 77062. Preceding the celebration of life will be a private burial. In lieu of floral tributes, the family suggests memorial contributions in Gwen's name to the American Diabetes Association, P.O. Box 7023, Merrifield, VA. 22116. 1-800-342-2383.