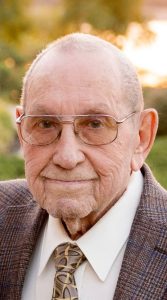 Guinn Walter Parker, 95, of Pasadena passed away Monday, October 16, 2023.  He was born September 10, 1928, in Twitty, Texas to Kelly and Martha "Mattie" Annette Hubbard Parker.  Guinn was the youngest of six children and grew up on the farm.
He enlisted in March 1946 in the US Navy in Amarillo, Texas.  Guinn attended Boot Camp at the San Diego Naval Training Station, Recruit Company #136.  He deployed on a troop transport from Angel Island in San Francisco to Shanghai, China, where he spent his 18th birthday.  He served as a Fireman 1c on the USS Kaskaskia AO-27 Fleet Tanker in the Pacific Theater of Operations serving from March 1946 to January 1948.  Honors included the Asiatic Pacific ribbon, Victory Medal, and American Area ribbon.  Guinn remained a member of the US Inactive Naval Reserve from January 1948 until January 1956.
Guinn began his career at Houston Natural Gas on August 8, 1948, in Customer Service.  During his employment, he survived numerous Company changes and names.  He held positions not only in Customer Service, but also in Residential Sales, Supervisor of Commercial and Industrial Marketing, and Marketing Supervisor of the Beaumont and Texas Coast Division.  Guinn retired on October 31, 1987, after 39 years of service.  Guinn was active in the Houston Chamber of Commerce Golden Key Club, and two-time President of the Life Members Club.  Guinn enjoyed and participated in bowling, softball, and numerous marketing campaign trips prior to his retirement.
While working at Houston Natural Gas, he met Jeannine Dingle Schima who became his second wife on May 23, 1980.  He and Jeannine traveled extensively in the United States and abroad, visiting all 50 states taking photos of all the state capitols.  In Texas, they were able to view all 254 county courthouses.  They resided in Shoreacres until September 2008 when Hurricane IKE paid a visit to the area.  They then moved to the Parkway Senior Apartments in Pasadena, Texas where they met and made many good friends.
After moving to Pasadena, he became active in senior organizations including the Ageless Angels, Sunshiners, Prime Timers, and the Deer Park AARP Chapter 3766 and other church sponsored groups.  He was a frequent visitor to the Pasadena and Deer Park Senior Centers and the Pasadena Home Town Opera.  Guinn was an avid sports fan and supported all Texas teams, but especially loved his Houston Teams.
One of the highlights of his life was his family.  He talked often about his mother, brothers, sister, and nephews and nieces; many of which he had lived with while growing up.  When he married Jeannine in 1980, he inherited a whole new family of two daughters, two sons-in-law, three grandsons, and a granddaughter on the way.  Guinn then became known as "Pappy" and loved each as if they were his own giving them each a special nickname.  Over the years, his family grew adding eleven great-grandsons and one great-granddaughter.  He loved them all unconditionally and always wrote special birthday notes to each.  All have special memories of Pappy that they will cherish forever.
Guinn is preceded in death by his parents, first wife, Geraldine "Gerry" Bailey Parker Maddox, brothers:  Richard Wallace Parker, Cecil Albert Parker, Coy Duard Parker, Hansel Porter Parker, and sister:  Dorothy Magdalene Parker Mason and several nieces and nephews.
Pappy is survived by his daughters:  Pamela Stanford of Clear Lake, and Rebecca Freeman and husband Wayne of Frisco; grandchildren:  Sean Nimmo and wife Leslie of Pearland, Jason Freeman and wife Laina of Garland, Kevin Freeman and wife Kim of McKinney, and Emily Stanford and husband Jason Niebaum of Dallas; great-grandchildren:  Weston, James, and Lindey Nimmo and Blake and Darin Davidson of Pearland; Brody and Parker Freeman of Flower Mound and Myles and Jackson Holt of Dallas; and Asher, Hayes, and Price Freeman of McKinney.  Nephews and Nieces:  Gene Mason and wife, Annette of Tyler, June Willingham and husband Ben of Kerrville,  Bruce Mason and wife, Cindy of Houston; E. Kelly Parker and wife Terri of College Station; Yvonne Johnston of Houston, Rick Parker and wife, Sherry of Moundridge, Kansas, and a number of grand-nieces and nephews.
A special thanks goes to Baywind Village Skilled Nursing and Rehabilitation and Village Home Health and Hospice caretakers for their kindness, loving and dedicated care during the past few months.
An inurnment will take place at Houston National Cemetery on Thursday, December 14, 2023 at 11:30 a.m.