Guadalupe "Ruby" G. Martinez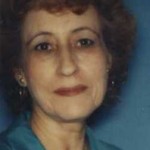 Guadalupe "Ruby" G. Martinez, 85, longtime resident of Dickinson, Texas, passed away January 11, 2014 in Webster, Texas. She was born September 11, 1928 in Booth, Texas to parents Fidel and Gregoria Garza.
She was preceded in death by her husband Roman Martinez Sr. and son Roman Martinez Jr.
She is survived by her daughter, Carolyn Schultz and husband Roger; sisters, Gerty Martinez, and Frances Martinez and husband Manuel; brother, Dale Garza and wife Marcie; and grandson, Mel Bousley III and Susan Sireno.
Visitation will be held from 6 p.m. – 8 p.m. Friday, January 17, 2014 with a rosary beginning at 6:30 p.m. at Crowder Funeral Home in Dickinson.
Funeral services will be held at 10 a.m. Saturday, January 18, 2014 at Crowder Funeral Home Chapel with interment following at Forest Park East Cemetery in Webster, Texas.