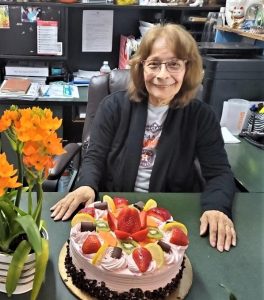 Guadalupe Hernandez, 78, a resident of Houston, TX, passed away in Alvin, TX on November 19, 2022. She was born on May 4, 1944 in Houston, TX and was of the Catholic faith. She worked for Brother Joe's Golden Harvest Produce for several years. Guadalupe enjoyed playing bingo, going to casinos, dancing, sewing, crafts, watching Hallmark movies, and watching the Astros and the Texans with friends and relatives.
She is preceded in death by her son, Paul Hernandez; parents, Paul and Amalia Hernandez; sisters, Dora Moreno and Earline Hernandez; brothers, Paul Hernandez and Joe Hernandez.
Guadalupe leaves behind her grandchildren, Paul Hernandez and Clarisse Hernandez; sister, Andrea Belmarez; brothers, Robert Hernandez, John Hernandez, Vincent Hernandez, wife Mary, and Luis Hernandez, wife Lori; and numerous aunts, cousins, nieces, nephews, grand nieces and nephews, and friends and neighbors.
A graveside service will be held on Tuesday, November 29, 2022 at 11:00 a.m. at Forest Park Lawndale Cemetery in Houston.
In lieu of flowers, the family requests that donations be made to Texas Children's Hospital.