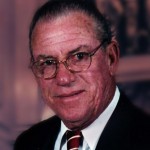 Grover Doyle Salsbury, 71, fifty year resident of Hitchcock, Texas, passed away July 8, 2014 in Hitchcock, Texas. He was born December 25, 1942 in Jonesboro, Louisiana to parents Cecil and Helen Salsbury. He was a fifty year member of Our Lady of Lourdes Catholic Church in Hitchcock.
Grover was active in the Senior Program at College of the Mainland, serving on the College of the Mainland Foundation Board and the Senior Adult Program Advisory Committee. He was also a volunteer at The Grand 1984 Opera House in Galveston.
He was preceded in death by his parents, Cecil and Helen Salsbury, and his wife, Ada Faye Salsbury.
He is survived by his daughter, Debbie Jones and husband David; sons, Randy Salsbury and wife Teresa, Danny Salsbury and wife Sara; brother, Ronald Salsbury; sisters, Linda Blanchard, and Sandra Hultquist; and grandchildren, Tyler, Austin, Zachary, Travis, Bailey, and Bradley.
Visitation will be held Monday, July 14, 2014 from 6 p.m. to 8 p.m. with a rosary beginning at 7 p.m. at Crowder Funeral Home in Dickinson.
A Funeral Mass will be held at 10:00 a.m. Tuesday, July 15, 2014 at Our Lady of Lourdes Catholic Church in Hitchcock with interment following at Mt. Olivet Cemetery in Dickinson.