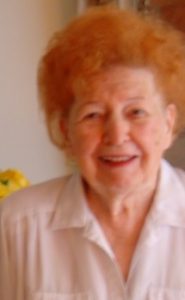 Grace Kell was born in Cairo, Ill. She was a primary school teacher in her younger days and then went on to retail sales. She was married to Robert Kell and during her married life moved around often, making homes for her family in Ky., Ct., Va. and N.J. After her divorce, Grace moved to Florida and then to Texas.
Grace is survived by three children, Martha Harborn of League City, Tx., Russell Kell of Anchorage, AK. and Rodger Kell of Phillipsburg, N.J. Also she is survived by three grandchildren, Cheryl Boucher, Laura Cullison, and Meghan Kell, great grandchildren, Larry and Brandon Boucher, Alec and Dylan Cullison and one great-great grandchild, Cameron Boucher.
The family would like to thank the staff at Brookdale, the housekeeping group and most of all, her bridge buddies for making her days at Brookdale so enjoyable and happy.