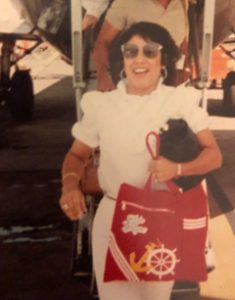 Gloria Martha Ramirez, 74, passed in her home on Sunday, February 3, 2019. She was born March 21, 1944 in Villaldama Nuevo Leon, Mexico. Gloria has been a resident of Pearland for 55 years, she worked for Pearland ISD as an aid for life skills and was a member of the Red Hats Society.
Gloria is preceded in death by her grandson, Roland Villarreal Jr; parents: Vicente and Santos Gloria Ramirez; sister: Virginia Ramirez Reyes; brother: Roberto Arizmendi; niece Santos Gloria Cuellar; nephews Alexander Gamez and Ramon Gamez, friends Lucy Bishop and Virginia Corpus.
Gloria leaves behind her daughter, Diane Hernandez Castro, husband Kenneth; grandchildren: Roland Villarreal III, partner Timothy Hampson, Ryan Neal Villarreal, wife Ashley Smith villarreal, David Michael Navarro, fiance Taylor Newquist and Kaylee Danielle Castro; great grandchildren: Ava Marie Villarreal and Aiden Dwayne Michael Navarro; sisters: Elidia Gamez, husband David, Maria Ramirez, Yolanda Ramirez (Alex Ortiz) and Ida Ramirez; brother-in-law, Manuel Reyes, Jr. and sister-in-law,Betty Ann Arizmendi; best friends: Sharon Hernandez, Bettie Wright as well as many other family and friends.
There will be a Celebration of Life on Saturday, March 23, 2019 from
5pm-10:30pm at St Andrew's Episcopal Church, 2535 E Broadway
Pearland, Texas 77581.
In lieu of flowers please make memorial contributions to: Hospice Care Team, 11441 32nd Ave No St B. Texas City, TX 77591.