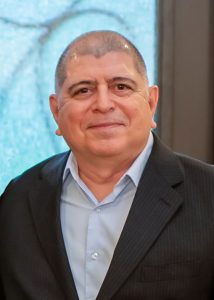 Gilbert Garcia Perez was born on August 16th, 1957 in Port Lavaca, TX to his parents Able Perez and Julia Perez. He spent the last 38 years married to Sandra Jean Perez, living in Friendswood and finally League City, TX.
Gilbert had a deep relationship with God and was always active in his Church. He attended Baybrook Baptist Church and New Hope Church, where he served in various roles like Sunday school teacher, Awana leader, and deacon. Gilbert raised all of his children to know God and they are all Christians.
Gilbert made his living working for various engineering companies like Brown and Root, which became KBR, and lastly Wood. He enjoyed his work and was always talking about the next big project coming through his group. When he wasn't working, he enjoyed playing Golf with his sons and grandkids. Classic cars and car shows were also a hobby of his, evidenced by the '64 Cuda in the garage, amongst all the spare car parts.
Gilbert passed away from this earth to be with his Savior and Lord Jesus on the morning of September 12th, 2021, ultimately losing his short battle with Covid.
Gilbert is preceded in death by his father, Able Perez; sister, Lisa Garcia; brothers: Able Perez, Jr, David Perez and Benito Perez.
He leaves behind his wife Sandra Perez; daughter, Jessica Pullins, husband Jason; sons: Matthew Perez, and Michael Perez, wife Kylee; grandchildren: Jackson Pullins, Christian Pullins, Olivia Pullins, Hunter Perez, and Rylee Perez; mother, Julia Perez; sisters: Linda Garcia, husband Alfredo, Blanca Paz, husband Nelson, and Ofilia Garcia, husband Paul.
There will be a service on Thursday, September 23, 2021 at 10 a.m. in the chapel of Crowder Funeral Home in Pearland. Burial to follow at South Park Cemetery in Pearland. TX.