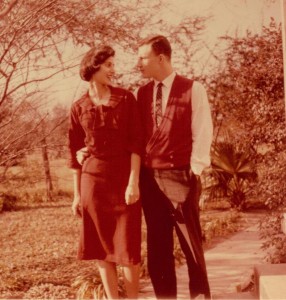 Gerard George Fossati, 81, passed away in his home on Monday, April 22, 2015. Gerard often referred to his life as Heaven on Earth and was extremely dedicated and devoted to his Catholic faith and to his family. He lived life leading by example and was an inspiration to all who knew him. He was born on August 14, 1933 in Victoria, Texas to the late Frank Louis and Ella May Vogt Fossati. Gerard is survived by his loving wife of 54 years, Antoinette Fossati; children, Paul Fossati (Rona), Mary Compton (Mike), Kay Shore (Mike), and Jason Fossati (Courtney); sisters, Veronica Pahmiyer, Gloria Borreca and Therese Bomersbach (Johnny); brothers, Frank Anthony Fossati (Melvera) and Xavier Fossati; and cousin JoAnne Hough (Bill); grandchildren, Gina Fossati, Christopher Compton, Ben Compton, Amanda Compton, Abbey Fossati, Madeline Fossati, Nicholas Fossati, and Nathan Fossati; and many beloved nieces, nephews, and cousins.
Gerard was the sixth of ten children. Every summer, his parents moved the family to Port O'Connor where they spent an idyllic three months crabbing, swimming, and spending time together as a family. At an early age, Gerard developed a life-long passion for cooking and music. The joyful sounds of his whistling and humming could frequently be heard as he made delicious meals in the kitchen. He treasured early morning Mass and breakfast with his father. As a bank teller in Victoria, Gerard enjoyed working and socializing for several years before serving in the U.S. Army in Korea. He earned a Bachelor's degree in English and History from the University of Texas and a Master's degree in Education from the University of Houston. For 30 years, he worked as a teacher and guidance counselor. Gerard was involved in many volunteer activities that he performed in a quiet, discreet manner. Gardening, interior painting, pottery, refinishing furniture, attending theatrical events, and walking in the park were some of his favorite hobbies. Gerard also loved spending time with his grandchildren and was a wonderful grandfather.
Services, including a Rosary and Mass, followed by lunch will be held Friday, May 1st at 10:30 A.M. at St. Paul the Apostle Catholic Church, 18223 Point Lookout Dr. Nassau Bay, TX. Burial will be held Saturday, May 2nd at 10:30 A.M. at Mt. Olivet Cemetery, 7801 Gulf Freeway at Hughes Rd in Dickinson.
In lieu of flowers, those wishing to make a memorial donation in Gerard's memory may do so to Casa Juan Diego, P.O. Box 70113 Houston, TX 77270, or Houston Hospice, 1905 Holcombe Boulevard Houston, TX 77030.