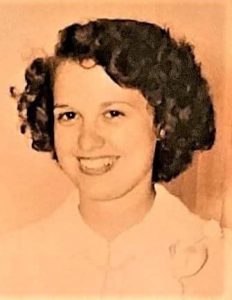 Geraldine "Jeri" Matthews 82, of Webster, Texas went to a Better Place on March 25, 2018. She unexpectedly passed away at Clear Lake Regional Hospital after a heart attacked. She had been ill for several months prior to her sudden illness and is now absent pain and suffering from a multitude of health problems.
Jeri is survived by her: husband, life companion and lover of 67 years, Guy Matthews; daughters, Donna Woodruff of Webster and Deborah Stella of Georgetown and seven grandchildren.
Jeri traveled throughout the world as a companion to her husband and first love. The couple also spent a decade in the Caribbean Island Chain on the Spanish Main on their Ketch Quite Nice. They are favorably remembered for their friendship and hospitality to fellow Caribbean cruisers. Boating and fishing were an important part of her life. (The couple owned multiple boats, nine of which were named Quite Nice. She was also known for her love of dogs including Sadie, Bumppo, Gargamel, and the infamous Buddy who was thought to have bitten more guests and barked at more dinghies and dock walkers than any other Caribbean boat dog in recorded history.) When she tired of sailing and fishing, she retired to a brush country, rural home in George West, Texas where she found a new passion for life.
A memorial service will be held at the First Methodist Church of George West on March 31, 2018 at 11am. She will be cremated and her ashes will be spread throughout the Western Caribbean.