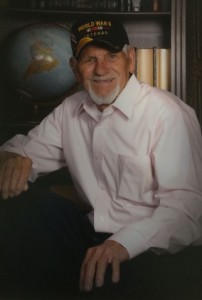 George Earl Dodson was born August 28, 1923 to Daniel Bouie and Lottie Elizabeth Dodson in Benton, Arkansas and passed away on August 29, 2016 at Mainland Hospital in Texas City, with his family by his side.
He was preceded in death by his wife, Martha Jean, daughter, Brenda Flex, granddaughter, Peggy Michelle Jasso, grandson, Josh Jasso, and great great-granddaughter, Ayva Bree Esquivel.
Survivors include three daughters, Lottie Bates of San Antonio, Georgia Dodson of Texas City, & Peggy Taylor of Texas City; son, Michael "Toby" Dodson of Galveston; sisters, Margaret Herod of Decanter, Ark. and Ruth Beam of Benton, Ark. Also surviving are eleven grandchildren, twenty- nine great-grandchildren and eight great-great grandchildren.
George was a WWII Veteran serving in the U.S. Army from 1943 – 1945 and a "HERO' fighting in the Normandy Beach Landing. He was a lifetime member of The VFW Post 6378 in Dickinson, TX. and also loved to dance, fish, and hunt.
There will be a visitation held at Crowder Funeral Home in Dickinson from 6 p.m. to 8 p.m. on Wednesday, August 31, 2016 with a funeral service on Thursday at 11 a.m.at the funeral home.
Interment will follow at Houston National Cemetery in Houston, TX.