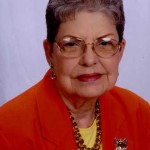 Genevia Adelle Roberts passed away on Wednesday July 30, 2014. She was born on May 3, 1929. Preceded in death by her husband; Rothstine "Boots" Roberts, her parents; Robert Montgomery Goode and Tempie Annie Mae Goode-Pevehouse, brother; Robert "Bob" Goode and daughter; Barbara Roberts Clark. She is survived by her daughter; Sheryl Hill and her husband Dan, son-in-law; Ron Clark, three grandchildren; Lesley Clark-Bailey, Kara Clark and Laura Hill, and three great-grandchildren; Anthony Dean, Caleb Dean, Colton Clark and many nieces and nephews.
Adelle was a long-time member of the First Christian Church in La Marque, Texas. Adelle thoroughly enjoyed her grandchildren. Her favorite pastimes were crocheting, bowling, and fishing. As a follower of Christ, Adelle, always thought of others before herself.
A visitation will be held for Adelle on Sunday August 3, 2014 from
5-7 p.m. at Crowder Funeral Home Dickinson, Texas. Funeral service will take place Monday August 4, 2014 at 10 a.m. at Crowder Funeral Home Dickinson, Texas. Interment will follow at Grace Memorial Park Cemetery Hitchcock, Texas.
In lieu of flowers, please make donations to First Christian Church, La Marque, Texas.