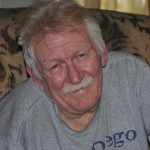 Fredrick Barrette Coates, 70, of Friendswood, Texas, passed away January 30, 2014 in Houston, Texas.
He was born March 25, 1943 in Omaha, Nebraska. Fredrick proudly served our country in the United States Navy. Fredrick married Toshiko (Kinjo) Coates on August 23, 1965 in Japan where they had met. They raised their 3 children in Friendswood, TX and were married 41 years. Fredrick was a self-employed contractor for over 25 years. He enjoyed television, especially game shows and spending time with family and friends. He was a loving father and grandfather and will be greatly missed.
Fredrick is preceded in death by his wife, Toshiko in June 2007.
Fredrick is survived by his mother, Margaret Coates; son, Kenneth Coates of League City, TX; daughters, Kim Foster of Friendswood, TX and Kelly Schmutz of Friendswood, TX; sisters, Linda Simpson of Omaha, NE and Sharon Christensen of Adair, IA; brother, Harold Coates of Omaha, NE; grandchildren, Corey, Madison, Chazz, Nick, Sydney and Bethany; great-grandchild, Michelle.
Funeral Services will be held Tuesday, February 4, 2014 at 11:00 a.m. at Crowder Funeral Home, 2422 Broadway, Pearland, TX 77581 with Pastor Bill Cole officiating. Following the service, the family will receive friends and family at the home of his son, Ken, at 4406 Blossomwood, League City, TX 77573. Private burial will take place at Forest Park East in Webster, Texas.