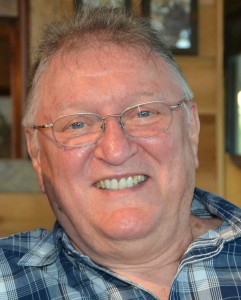 Frederick Allen Thompson, 75, passed away on March 11, 2015 in Clear Lake, TX. He was born in Fayetteville, NC to Gentry Reid Thompson and Anna Louise Thompson. Fred is survived by his wife, Barbara J. Thompson, daughters Gina Thompson and fiancé Dan Walker of Fate, TX, Pam Thompson of Elkridge, MD, Kathy Farrell and son-in-law Sean Farrell of Elkridge, MD; sister Frances Beaman of Brevard, NC, nephew Jeff Beaman of Greensboro, NC, niece Lori Beaman, great niece Taylor Stamey of Cedar Mountain, NC and grandchildren Jacob Farrell and Kylie Farrell of Elkridge, MD along with numerous extended family members and friends.
He graduated from Seventy-First High School in Fayetteville, NC and in 1960 he joined the United States Air Force where he served until 1965. He then went on to build his career in the Aerospace Industry which took him all over the world. He received numerous commendations and awards for his contributions to successful space and shuttle missions. He retired from Honeywell (formerly Bendix, Allied Signal) in 1996.
Fred enjoyed teaching himself how to play the acoustic guitar and photography, but his real passion was dancing. When he retired, he and Barbara took up West Coast Swing dancing and joined the Bay Area Whip Club where he later became Treasurer. They were very active members of the dance club and formed many close friendships.
A memorial service will be held on Wednesday, March 18, 2015 at 7pm at Crowder Funeral Home on 111 E. Medical Center Blvd., Webster, TX 77598.
In lieu of flowers, please make a donation to the charity of your choice in his name.