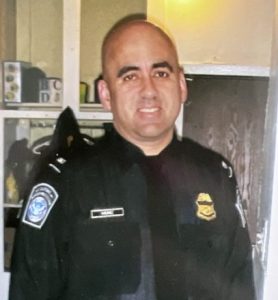 Freddie Muniz, of Eureka, Montana, passed away on Saturday, February 18, 2023, surrounded by his loving family at the age of 53. He was born on October 25, 1969, in Santurce, Puerto Rico to Freddie Muniz and Maria Elena Reyes.
Freddie served 4 years in the United States Navy. He dedicated his adult life to serving the country in different capacities, first in the military and then the Federal government as a Customs Agent with the Custom and Border Protection Agency.
He loved to collect comics books, fishing with his son Michael, playing with his nephews and nieces, enjoyed listening and dance country music, and enjoyed watching his favorite football team to Denver, Broncos.
Freddie was preceded in death by his father Freddie Muniz and a daughter Arianna Mia Muniz.
Freddie is survived by the love of his life, wife, Josselyn; son Michael Daniel Muniz, his mother Maria Elena Reyes of Puerto Rico, brother Victor Ivan Muniz  of Puerto Rico, sister Mariel Muniz and her husband Andres Burguera of Florida, Nieces Ashley Christine Muniz, Isabella P. Burguera, Zoe L. Burguera, and his nephew Mateo A. Burguera.
A Chapel Service will be held on Wednesday, February 22, 2023, at 11.30am with Pastor James Trevino officiating. Interment will follow the ceremony at Houston National Cemetery.
A memorial fund has been set up for Freddie at the link below.