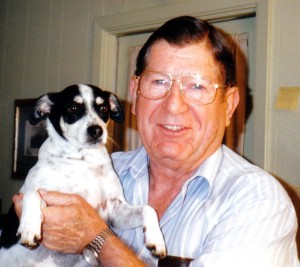 Fred Frank Daniel Heinemann passed away at age 92, on Monday, December 8, 2014 surrounded by friends and family, with his wife by his side. He was born December 16, 1921, in Marshall, Texas, to Frederick and Rosa Nika Heinemann. He met Lynell Irwin in 1941 and they eloped 3 weeks later, on December 1. Last week they celebrated their 73rd anniversary.
Fred went to work for Union Carbide in 1951. In 1957, Fred and Emmanuel J. Chionsini founded A & A Machine & Fabrication LLC. Fred was proud of building a business that provides World-wide services and proud of the employees that made that possible.
Fred was an Assistant Chief with the La Marque Volunteer Fire Department, and then served as Captain with the La Marque Auxiliary Police Dept. He was a Master Mason in Good Standing with La Marque Masonic Lodge #1325, where he was a member for 65 years, and was a member of the El Mina Shriners. Fred was a member of the International Associations of Machinists for 50 years.
Fred and Lynell traveled all over the world and later took extensive trips all over North America in their RV.
Fred was a loving, devoted and generous husband, father, grandfather and great-grandfather. He was preceded in death by his grandson Brian Lee Oshel.
He is survived by his wife Lynell, daughter Nancy Heinemann and her partner Mary Lu Graham, of San Rafael, Ca., daughter Bambi Oshel and her husband Larry, of Texas City, granddaughter Laura Myhovich and her husband Darren, of San Diego, Ca., and great-grandson Evan Myhovich. He is also survived by his beloved Boston Terrier, Martin.
The family would like to acknowledge the exceptional care Fred received from Sandra Williams, of Right at Home health care agency and from the nursing staff at A-Med Hospice.
Donations in his name may be made to the Shriners Hospital for Children, 815 Market St., Galveston, Texas, 77550, (409)770-6771.
A visitation will be Friday, December 12, 2014 from 5:00pm – 7:00pm at the James Crowder Funeral Home in La Marque. Funeral Service will be on Saturday, December 13, 2014 at 11:00am at the James Crowder Funeral Home with Rev. Mike Selzer officiating. Burial will follow at Galveston Memorial Park in Hitchcock, Texas.