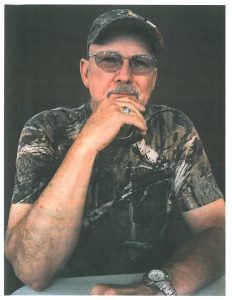 Frank Eugene Pulkinen 76, a resident of Pearland, TX, formerly of Manvel, TX, for 45 years, passed away May 17, 2023, in Pearland, TX. He was born June 5, 1946, in Houston, TX. He served his country in the U.S. Navy during the Vietnam War as a E-5, 2nd Class Aviation Ordnance Man on the USS Coral Sea CVA 43 for attack squadron VA 52. He was a member of the Masonic Lodge, CF Spencer Lodge No 1384 A.F & A.M.  He was an Inspector for Texas Pipe Bending and S.G.S. Inspection Company. He also worked with many plants in the Deer Park area.
Frank was an avid outdoorsman, hunter, and fisherman who loved the family ranch. He loved sharing his time with his wife, children, grandchildren, and entire extended family and friends. Frank loved cooking outdoors and was a pitmaster in his own right. He was a phenomenal archer, marksman, and avid knife collector. Frank was a gifted storyteller and was never at a loss for words. Frank studied the Bible, knew the scriptures of our Lord and was strong in his faith in Jesus Christ.
He is preceded in death by his parents, Eugene and Harriet Pulkinen, and his brother, William Pulkinen.
Frank leaves behind his wife of 53 years, Sherry Pulkinen; daughter, Carrie Korts, husband Michel; son, Jeff Pulkinen, wife Kristi; grandchildren: Tyler Pulkinen, wife Sarah, Travis Pulkinen, Carissa Wallace, and Cailey Wallace; sister, Patricia Truelock; many more loving extended family, and many dear friends.
A visitation will be from 1 p.m. to 2 p.m. Wednesday, May 24, 2023, with a service to follow at 2 p.m. in the chapel of Crowder Funeral Home in Pearland with Chaplain Frank Rodriguez to officiate.
Memorials may be made to Operation Honor Our Local Veterans. www.HonorLocalVets.org  Frank was a Proud Veteran.
Please copy and paste to your browser  at time of service
https://youtube.com/live/HvZN7m8naRM?