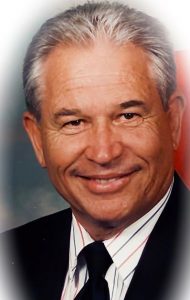 Frank Andrew Huvar, age 84, was called home to his Lord and Savior on Sunday, July 26, 2020 with his family by his side. Visitation will be held for immediate family only on Thursday July 30. Public viewing to be held on Friday July 31, 2020 at Queen of Angels Catholic Church 4100 TX-3, Dickinson, TX 77539 at 8:30 a.m.-9:30 a.m. Rosary to be recited at 9:30am, and Mass of Christian Burial for Frank Huvar will be at 10 a.m. at Queen of Angels Catholic Church A Society of St. Pius X priest will preside over the funeral mass. Interment will follow at Assumption Cemetery in Ganado, Texas. He will be laid to rest next to his wife Rubie. She has been waiting patiently for him for 17 years.
Frank was born November 30, 1935 in El Campo, Texas to Lewis and Sophie Orsak Huvar. He is preceded in death by his wife Rubie, his parents, his 2 sisters, Lorraine Thomas and Viola Counts, and infant grandson, Christopher Shaun Huvar.
Frank was raised in El Campo, Texas, then moved to Ganado, Texas, where he graduated from high school in 1954. Here he met the love of his life, Rubie Lee Hahn Huvar. They were married on October 1, 1955 until Rubie's death December 13, 2002.
Honey is survived by his six children: Marty (Rene) Huvar of Brenham; Hollis (Susan) Huvar of Dixon, California; Blake Huvar of Dickinson, Texas; Ardis (Randy) Kamenicky of Brenham; Jason (Michelle) Huvar of Honolulu, Hawaii; and Lorri (Chad) Cales of Brenham. He was affectionately known as Grandpa Honey to his 13 grandchildren: Eric (Sarah) Huvar, Kyle (Kimberly) Huvar, Megan (Michael) Callahan, Meggie Huvar, Matthew Huvar, Juli Ann Kamenicky, Elizabeth (Brock) Marburger, Sarah Kamenicky, Anne-Marie Kamenicky, Jessica Cales, Emily Cales, Ian Cales, and Bridgit Cales and 5 great-grandchildren: Lily, Mackenzie, Bailey, Sadie, and Jana with a great grand-daughter, Adelynn Kay, due in September. He is also survived by his special friend, Georgia Gavranovic; nieces, Cheryl Thomas, Judy Rock and Sandy Helmcamp.
Frank had a variety of jobs, ranging from serving in the US Army, oilfield to sales to funeral home employee. However, the job that he loved the most was being a Morton's potato chip distributor. He raised his family while driving that route truck throughout the Victoria County area. Many memories were made on that potato chip truck.
Frank loved to visit. He especially loved to visit family members. He would go out of his way to look up a cousin, aunt or uncle that he had not seen in years and spend time visiting them. He loved to tell stories about his childhood and the crazy things that he did as a young boy. Frank also loved dancing and listening to Polka music. He looked forward to the weekends, so he could meet up with the many friends that he made at these dances.
Frank was a devout Traditional Catholic.He respected the Latin Mass as celebrated by the priests of the Society of St. Pius X. He was a member of Queen of Angels Catholic Church in Dickinson, Texas. He was known to pray his rosary daily and lived his life according to the Beatitudes.
Pallbearers include Marty Huvar, Hollis Huvar, Blake Huvar, Jason Huvar, Randy Kamenicky and Chad Cales. Honorary pallbearers include grandsons Eric Huvar, Kyle Huvar, Matthew Huvar and Ian Cales.
Funeral arrangements are entrusted to Crowder Funeral Home, 851 FM 517 Rd, Dickinson, Texas 77539.
In lieu of flowers, the family requests masses to be offered for the repose of his soul.