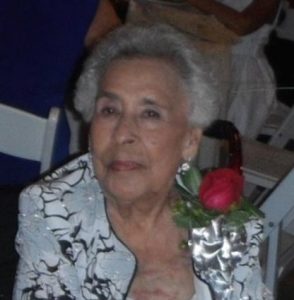 Frances Troncozo, 94, of Texas City passed away on Tuesday, January 24, 2017 in Texas City. She was born October 27, 1922 in Galveston, Texas to Jesus and Maria Miranda.
She is preceded in death by her parents, her husband Salvador Troncozo, Sr., one brother and two sisters.
Frances is survived by her daughters: Beatrice DeLaPaz (Robert) of Texas City, Dolores Troncozo of Texas City and Julie Troncozo of Texas City; her sons: Salvador Troncozo, Jr. (Nety) of Texas City and Jesse Troncozo of Texas City; sister Teresa Villarreal of Houston; brother Victor Miranda of La Marque and six grandchildren and five great grandchildren.
Visitation will be on Thursday, January 26, 2017 from 5:00pm – 8:00pm with a vigil at 6:00pm at Queen of Peace Catholic Church in La Marque with Deacon John Carrillo officiating. Funeral Mass will be at 12:30pm on Friday, January 27, 2017 at Queen of Peace Catholic Church with Father Chacko Puthumayil officiating. Burial will follow at Forest Park East Cemetery in Webster, Texas.
Pallbearers will be Jesse Troncozo, Salvador Troncozo III, Steven Troncozo, Chris Castillo, Steven Flores and Tony Nino.