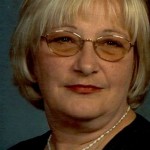 Frances was called home to heaven on November 25, 2015. She was a strong woman, child of God, and a loving person. Frances will be missed by so many, as she has left a huge impact on all of our lives.
She was a daughter, sister, mother, grandmother and aunt.
She is survived by her mother, Margaret Volpe; daughters: Laura Sorg, Erica McBride, Andrea Sorg, Lisa Combs and Katheleen LoBiondo; grandchildren: Anthony Smith and Gracen McBride, Frank LoBiondo and Dylan LoBiondo; niece, Jacque McBreen; sister, Peg McBreen and brother, Michael Volpe.
May her soul forever live in our hearts and her memory never forgotten.
2 Corinthians 5:1-6New International Version (NIV)
Awaiting the New Body
For we know that if the earthly tent we live in is destroyed, we have a building from God, an eternal house in heaven, not built by human hands. Meanwhile we groan, longing to be clothed instead with our heavenly dwelling, because when we are clothed, we will not be found naked. For while we are in this tent, we groan and are burdened, because we do not wish to be unclothed but to be clothed instead with our heavenly dwelling, so that what is mortal may be swallowed up by life.  Now the one who has fashioned us for this very purpose is God, who has given us the Spirit as a deposit, guaranteeing what is to come.
Therefore we are always confident and know that as long as we are at home in the body we are away from the Lord.