Frances Marie LaPerna Wilson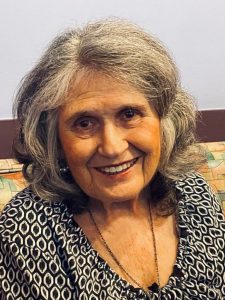 Frances Marie LaPerna Wilson, 90, passed away November 10, 2022. She was born at home in Houston, Texas to Sam and Mary (Sarao) LaPerna. She will be remembered as a loving wife and mother to ten children. Frances was preceded in death by her spouse Dale Malcolm Wilson, Jr., daughter Gloria Wilson,  son Dale Malcolm Wilson III, daughter Angela Wilson Morgan and son Michael Allen Wilson. She is survived by daughter Gina Alsup (Stephen) of League City, TX; son Stephen "Red" Wilson of San Augustine, TX; daughter Daina Wilson Sarafin of League City, TX; son John Carlton Wilson (Stacie) of Magnolia, TX, son Thomas Wilson (Rachel) of Texas City, TX and Jennifer Wilson of Albuquerque, NM.
She is survived by 18 grandchildren, 29 great-grandchildren and numerous nieces and nephews.
She graduated from Incarnate Word Academy in 1950. Soon after, she married and raised her family in Southeast Houston, where she resided until her passing. Alongside her husband, she made a living starting and owning multiple businesses. She was a member of Queen of Peace Catholic Church, where she served in the Ladies Prayer Group, where all of her children graduated.
All that met or knew her for any length of time realized the strength of her faith in Christ Jesus with a special devotion to the Blessed Mother. In her later years, she worked for her nephew Jim Landers (Pat) at Southport.
She liked playing the piano, watching EWTN and enjoyed traveling in the United States and internationally. She loved gardening, whether flowers, fruits or vegetables. She also loved cooking from scratch, oftentimes making large quantities of food, such as roaster pans full of banana pudding, coolers of crabs and fish and other countless meals. She loved fishing. Although Italian, she preferred crab, crispy tacos and Mexican food. She always loved being around babies, whether children or animals.
Visitation will be Monday, November 14, 2022 at 5pm-7pm with a Rosary at 7pm. Mass will be on Tuesday, November 15th at Queen of Peace Catholic Church at 3011 Telephone Rd. Houston, TX 77023 at 10am with graveside service following at Forest Park Lawndale.