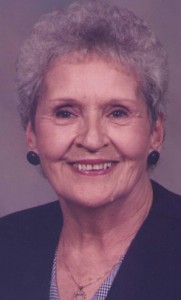 Frances Jean King, 88, was born in Gould, AR on July 15, 1927 and passed away peacefully at her home in Webster, Texas on November 7, 2015. Mrs. King raised her family in Texas City, TX. and moved to League City then Webster after the passing of her husband, Morris Ray King in 1976.
She was preceded in death by her husband, the love of her life, Morris; son Clifton; parents, Clifton Berry Sr. and Maggie Berry; brothers, G.W. Berry and Clifton Berry Jr… Mrs. King is survived by her daughter, Deborah Criss; and son, Mike King; 6 grandchildren and 9 great grandchildren, which were the love of her life.
Visitation will be held on Tuesday, November 10, 2015 from 5-8 pm at Crowder Funeral Home in Pearland. Funeral service will begin Wednesday, November 11, 2015 at 1pm at Crowder Funeral Home in Pearland. Interment will follow at South Park Cemetery.