Florence Marie Currington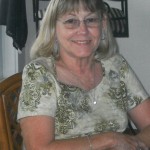 Florence Marie Currington, 71, of La Marque, Texas, passed away on Wednesday, June 18, 2014 in Sulphur, Louisiana. She was born on December 26, 1942 in Galveston, Texas to George and Caroline Gentsch. A resident of La Marque since 1968, Florence was a member of Highland Baptist Church and worked as a Teacher's Aide at the Simms Elementary School in La Marque.
She is preceded in death by her mother and father. Florence is survived by her loving husband; James Currington, three sons; Mark Wendell Currington and his fiancé Marian of La Marque, Cord Dean Currington and his wife Linda of League City, and Kevin Lane Currington and his wife Terri of West Point, one sister; Carolyn Gentsch of Seabrook, and two brothers; George Harold Gentsch Jr. of Texas City and Ray Edward Gentsch of Texas City. She also leaves behind, her six grandchildren; Weston Currington, Shelly Currington, Austin Currington, Christina Currington, Hailey Currington, and Amber Currington, and one great-grandson; Caden Moore.
Visitation will be held on Sunday, June 22, 2014 at the James Crowder Funeral Home in La Marque from 5:00pm to 8:00pm. A funeral service will be held on Monday, June 23, 2014 at 10:00am at the James Crowder Funeral Home, with Pastor Jack Ewing officiating.
Pallbearers will be, Weston Currington, Austin Currington, George Currington, Darrell Weiser, Darryl Patrick, and Hector Castro. Honorary Pallbearers will be Larry Currington, Kenneth Currington, and Ronnie Weiser.