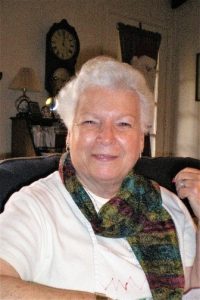 Flo Ann Noack Gay died March 14, 2022, at her home in Houston, TX surrounded by her loving family.  Ann was born in Houston, Texas on September 8, 1935, to Leonard F. Noack and Virginia Cox Noack; and grew up in Houston along with her sister Dorothy Frances Noack, and brother Leonard Frank Noack, Jr.  After graduating from Lamar High School, she attended The University of Texas and met the love her life, Clarence C. "Buck" Gay, Jr., a cadet at Texas A&M College, on a blind date at an Aggie football game in Houston in the fall of 1953.  Ann and Buck were married on August 14, 1954, in Houston and began their journey in married life that would last for 66 years.
Their early years were spent at several air bases in Texas, North Carolina and finally Dayton, Ohio as Buck finished his commitment to the United States Air Force.  In 1963 Ann and Buck moved their growing family, now five children with the sixth child on the way, to Northern Virginia so Buck could begin working for NASA in Washington, D.C.  In 1971 the family moved back to Texas and purchased their home in Nassau Bay.  Ann and Buck would share this home on Prince William Lane for 50 years.  The couple would move back to Virginia for a brief time in 1987, but by 1991 they had returned to Texas and their true home in Nassau Bay.
Ann was always an active parent participating in all her children's many activities.  She was a Cub Scout Den Mother, a Girl Scout Leader, active in the PTA, and a sports team Mom.  When her last child entered school Ann entered the work force taking a variety of administrative jobs with an interior design firm and two different physician's offices until her retirement in 1996.  While living in Virginia the second time she worked as a docent for the Colvin Run Mill Historic Site one of the few preserved industrial sites from the 1800s.
Her true passion was gardening.  She was active in the Nassau Bay Garden Club, serving as its President six times.  She was also the District 4 Director for the Houston Federation of Garden Clubs.  Her proudest achievement was the development of five "pocket parks" in Nassau Bay.  She was active in the Bay Area Symphony League serving as their Corresponding Secretary.  She was also very active in the Clear Lake Area Panhellenic Association due to her membership in the Gamma Phi Beta Sorority.  She served as the President of the Panhellenic Association, and she was awarded their highest honor the Citation Award.
Ann was the proud matriarch of a family that included 6 children, 15 grandchildren and 9 great grandchildren. She was known as Grandma, and she took a great deal of pleasure in presiding over large family gatherings on holidays, major achievements, and reunions each year at Surfside Beach.
Ann and Buck traveled to 65 countries during their married life, making it to the Pyramids in Egypt, the heart of the Amazon, the Great Wall of China, around the horn in South America, and they saw the Serengeti in Africa from a hot air balloon.  She always said her favorite trip was the safari in Africa.
She has been a member of St Paul's Catholic Church in Nassau Bay since 1971 and was a Eucharistic Minister there for more than 30 years.
Ann is preceded in death by her beloved husband Buck, her parents Leonard and Virginia Noack, her sister Dorothy Noack George, and her brother Leonard Noack, Jr.  She is survived by her sons Richard Lee Gay, Ronald Lynn Gay, Robert Glen Gay, and Randall Lawson Gay and daughters Linda Gay Dunk and Laurie Gay Vaughn, 15 grandchildren and 9 great grandchildren.
In lieu of flowers donations can be made to The Nassau Bay Garden Club or the Crawford Zbanek Scholarship Foundation.
For information regarding the funeral service please email anngayfuneral@att.net.